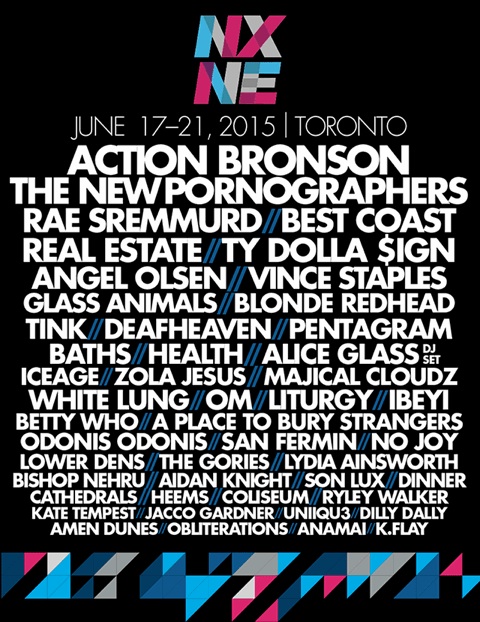 CANADA: North by Northeast (NXNE) – set to take place from June 17 – 21 in Toronto – has announced the first round of its music programming for 2015.
NXNE Music has confirmed performances by "Mr. Wonderful" himself, Action Bronson, indie rock supergroup The New Pornographers, rising hip-hop duo Rae Sremmurd, the sun-drenched Best Coast, Real Estate, Kanye collaborator Ty Dolla $ign, Angel Olsen, Vince Staples, Glass Animals, Blonde Redhead, Tink, Deafheaven, and Baths.
Also announced are Pentagram, ex-Crystal Castles member Alice Glass, HEALTH, Iceage, Zola Jesus, fierce Vancouver punk quartet White Lung; OM, Liturgy, Ibeyi, Betty Who, A Place To Bury Strangers, Odonis Odonis, San Fermin, No Joy, Lower Dens, The Gories, Lydia Ainsworth, Bishop Nehru, Aidan Knight, Son Lux, Cathedrals, Heems, Coliseum, Ryley Walker, Kate Tempest, Jacco Gardner, UNiiQU3, Dilly Dally, Amen Dunes, Obliterations, K.Flay, + more to come.
Spotify is the exclusive online streaming partner of NXNE 2015. "We are incredibly proud to be a part of this year's NXNE," said Jamie Herbert, Head of Marketing for Spotify Canada. "NXNE is an amazing celebration of music and Spotify will enhance the experience by enabling fans to enjoy unique playlists of artists and performers online."
For additional information and to see more of the artists playing NXNE 2015, visit their official website.