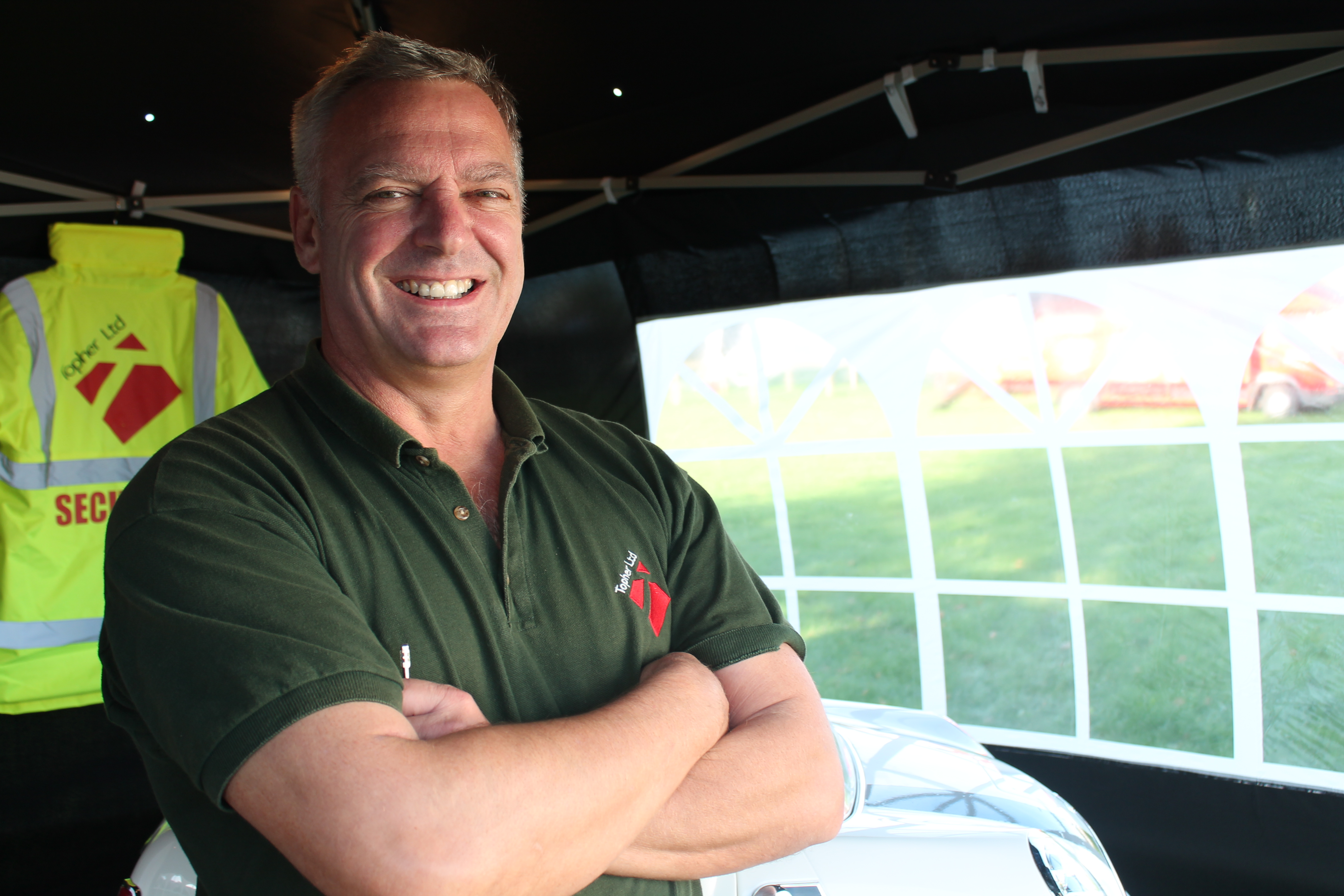 Chris Haywood is the Managing Director of Topher Ltd. Based in Fleet, Hampshire, and founded in 2007, Topher specialises in providing security, parking and traffic management services to the live events industry. Topher is noted for its core staff base of ex-Gurkhas, who have brought their military training and quiet professionalism to over 200 events in the last seven years, including The Ryder Cup, The Country Life Fair, RHS Wisley Flower Show, Chatsworth Country Fair and RAF Waddington Air Show. In this piece he discusses the importance of professionalism in security and parking services at festivals.
Every year millions of visitors go to festivals for the music, the literature, the guests and even the cheese. The sheer variety of festivals in the UK is amazing, and all these events have at least one thing in common: thousands of visitors arriving in cars and vans, who all need to get into the venue and park their vehicle before they can even begin to enjoy a safe and secure event.
Parking is often seen as a matter of logistics and enforcement, which makes sense from a purely pragmatic viewpoint. You need careful planning and preparation to receive thousands of vehicles, often arriving at green field sites, but this outlook neglects to take into account the vital importance of brand perception. The first contact any visitor has with your festival brand is when they arrive in their car. First impressions, as anyone will tell you, count. When festival-goers arrive at your event, only to spend an hour in gridlocked traffic before dealing with inexperienced and unprofessional traffic marshals, their first impressions aren't likely to be favourable.
I'm not blaming the marshals though; they're often students or contracted in, paid minimum wage and without any experience, which makes their job doubly difficult. It's not their fault, but the net effect on visitors remains the same – a poor first impression, and one likely to negatively affect their perception of the whole event.
To manage the pivotal first brand interaction successfully, your traffic marshals must have a strong customer service ethic, in addition to their training in traffic management. As the festival organiser, your choice of traffic and parking management company reflects your commitment to customer service. You need to get the cars off the public highway quickly, and parked up efficiently with the help of courteous, well-trained staff. I can't stress strongly enough how much this matters; traffic and parking management should be considered a 'front of house' job as much as a logistics one.
Likewise, security is often seen the same way, a liability that needs to be covered – rather than an opportunity to reinforce positive brand values. The role of event security personnel demands people skills and life skills. An understanding of psychology is important too, as it enables security staff to read a situation and react appropriately and constructively. Thankfully, most visitors won't need to interact with your security staff at all, but when they do, perhaps in difficult circumstances, it's essential your staff treat them with respect, fairness and restraint. Heavy handed, poorly trained security staff present the potential for enormous harm to your brand and reputation.
Given that the role of a security team will also involve some policing of festival drug and alcohol policies, it is of the utmost importance that the team maintains the highest standards of behaviour and professionalism. Many festivals, in my opinion, miss a trick with their security staff arrangements, by failing to see beyond their policing role. Unfortunately some security guards treat the job as a competition to see who gets the most evictions at an event, in order to justify their presence.
Well-trained, confident and polite security staff are a real asset to your event. By incorporating them into your customer service offering, the right security staff can be superb brand ambassadors and trusted points of contact for the public.
At Topher Ltd., we are focussed on delivering excellent parking and security services, but we also understand the value of providing true customer service. Our marshals and security staff are almost exclusively ex-Gurkha soldiers, and are always smartly dressed, courteous and respectful under all circumstances. They lend an air of quiet professionalism to car parking and traffic management operations, and this translates into a great deal more cooperation and tractability from drivers. As security staff, their calm and deferential demeanour often defuses a problem before it becomes a crisis, and they understand how to conduct themselves in a public facing role.
Festival organisers invest time and money boosting visitor engagement in all sorts of exciting ways, but often neglect these crucial first touch points that their visitors have with their brand. Managing traffic, parking and security are important factors for the live experience, but I would argue that it has the power to shape the entire interaction a visitor has with an event. Chaotic parking, rude marshals, intimidating security staff and long delays will ensure strongly negative impressions. Efficient parking, professional marshals and approachable, customer oriented security staff will enhance the festival experience for all your visitors.