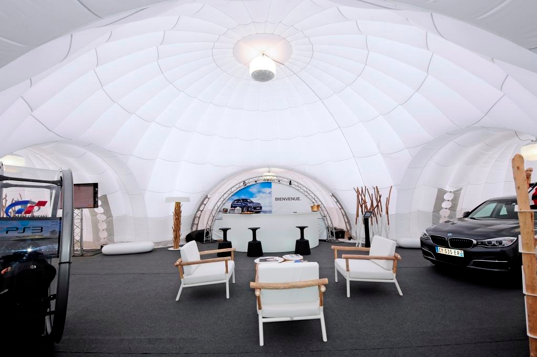 FRANCE: Airstar, the world leader in lighting balloon technology and manufacturer of professional inflatable structures, has announced that it has completed its range of temporary hospitality facilities with the launch of Dune by Airstar, a revolutionary inflatable and modular structure for high-end professional events.
Dune redefines temporary public spaces by offering an innovative, safe and aesthetic solution. Its unique modular system allows for a vast number of shapes to be created, providing an answer to the needs of various events and festivals.
Sébastien Thévenin, Marketing, Communication and Design Manager at Airstar, said: "Dune is the logical evolution of our Dome range; more simple, stronger and quieter, this solution offers infinite combinations to create spaces. It truly is a new way to conceive temporary public spaces, bringing originality and customisation to the table, which creates a unique character for high-end events."
Dune is very fast to erect, arrange and dismantle. The main module is a hemisphere measuring six meters high, and a 12.5m diameter. Only two hours are required to put up 200sqm structure (dome and tunnel). Once the event is over, the blower can simply be switched off, and the structure will quickly deflate before it can be folded.
There are two options for assembly: each element can be summarily deployed on the ground and assembled thanks to catcher points connecting the modules together. Ventilation blocks can then be connected to the air entries situated around the modules. It is also possible to inflate each module separately before assembling them together. In both cases, the structure can be positioned manually once inflated.
External fastening is available on the outside of the structure to allow for various anchor points (one ton resistant pegs, snap links, concrete blocks or weights) ensuring perfect stability. And when the environment doesn't offers anchor points – or doesn't fit the aesthetic– Dune can be ballasted with sand bags distributed between the 1.25m thick structure partitions.
Another advantage for business events is that the structure can be entirely personalised, putting Dune at the heart of the scenography as an active element to the atmosphere required: the partitions can host DMX controllable LED projectors, or become a canvas for images and light effects, both indoor and outdoor. In keeping with Airstar lighting balloon traditions, the structure can be branded or wrapped up with an embroidered or printed top cover.
Airstar Research Department can also create tailor-made modules based on requirements. A renowned German car manufacturer has already ordered a specific structure made of 4 half-domes linked to an imposing central semi sphere for its event needs.
Dune by Airstar is compliant with the security norms for structures hosting public, and is made of waterproof textile materials. The structure uses high strength polyester, allowing excellent resistance to fire (Class C). The inside of the structure can be heated or air conditioned depending on needs.
It took two years for Airstar to develop Dune. Alexis Coudurier, Special Projects Research Department Director for Airstar commented: "We participated in the development of a gigantic mobile hangar which could quickly be set up anywhere. We thought the same principle could be applied for the event industry and that's how we started working on Dune. We then asked engineering consulting firm Abaca to validate this project from a technical and security perspective."
Dune By Airstar is not only unique because of its design but also because it is weather resistant thanks to a high-end finish (thick partitions, inside high pressure for the textile beam). Tests were carried out with a 100 metres long structure, which resisted winds of over 100 km/h.
Experts in inflatable textile architecture, Abaca, provided their expertise for issues such as loss of shape predictions, ballasting, pressure levels and canvas choice to comply with the various security norms.
Nicolas Pauli, Director at Abaca, commented: "We have been working with Airstar for years, and we know their savoir-faire and rigour in making and producing inflatable structures. We quickly became enthusiastic by all the possibilities offered by Dune." According to him, it is Airstar's approach to design that makes Dune unique: "Airstar managed to reconcile technical constraints and design, while keeping in mind the context in which the product will be used. The end result is a solution that combines safety, flexibility, ease of usage and aesthetics."