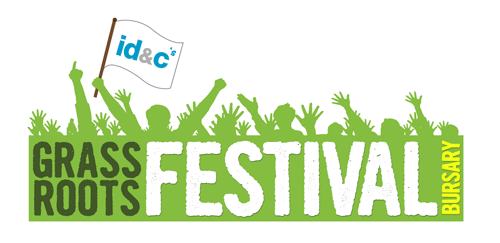 UK: Small to medium-sized festivals in the UK now have the chance to receive a £2500 bursary courtesy of security wristband and lanyard suppliers, ID&C.
Each year, The Grass Roots Festival Bursary awards one fledging festival £2500 towards security accreditation products. Applications are accepted from UK festivals with a single day attendance of up to 10,000, and that have been running as a business for five years or less. Around 40 festivals applied for the bursary in 2014, with the Cornwall-based Looe Music Festival announced as recipients.
Festival director Tanya Brittain commented: "Winning ID&C's Grass Roots Bursary had a massively positive impact on our festival last year. Our £2,500 package of branded wristbands, lanyard passes and stickies was a fantastic way to promote our brand, and allowed us to control access much more effectively than we have previously."
Over the past two years, Looe Music Festival has attracted over 6000 people to its unique seaside setting, and has reported almost £2m in contributed consumer spend during the weekend of the event.
Brittain continued: "The bursary offers a significant financial boost for any small festival and brings with it the opportunity to introduce visually impactful accreditation and professional accreditation systems. We would encourage all young festivals to apply for the bursary."
ID&C's Craig Bennett added: "Running the bursary is our way of supporting the industry at a grass roots level. It will help smaller festivals cover the cost of securing their events with the same wristbands and accreditation methods used at many of the UK's largest festivals."
Since 2011, over 130 festivals have applied for ID&C's Grass Roots Festival Bursary, which is awarded to festivals that engage with their local community, generate business for the surrounding areas and strive towards sustainability and green initiatives.
Apply for ID&C's Grass Roots Festival Bursary here.
Applications close on April 11, with the winner announced on April 18.