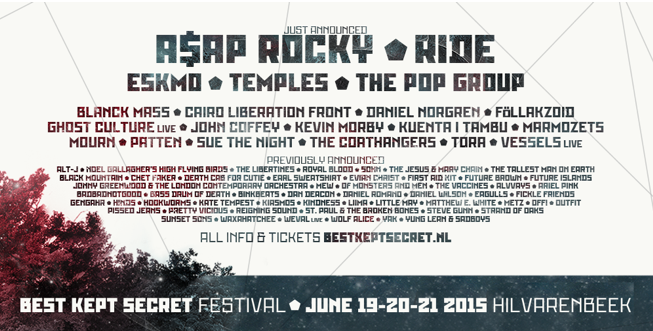 NETHERLANDS: The Netherlands' Best Kept Secret has revealed more names for its 2015 edition, set for June 19 – 21. Having announced 53 bands in February including alt-J, The Libertines, Royal Blood, The Vaccines and First Aid Kit, the festival has now added another 20 artists.
The new additions include: A$AP Rocky, Ride, The Pop Group, Temples, John Coffey, Kevin Morby, Vessels, Daniel, Norgren Föllakzoid, The Coat Hangers, patten, Eskmo, Blanck Mass, Sue The Night, Kuenta i Tambu, Mourn, Cairo Liberation Front, Ghost Culture, Marmozets and Torah.
For more information and the full line-up, check out the festival's official website.