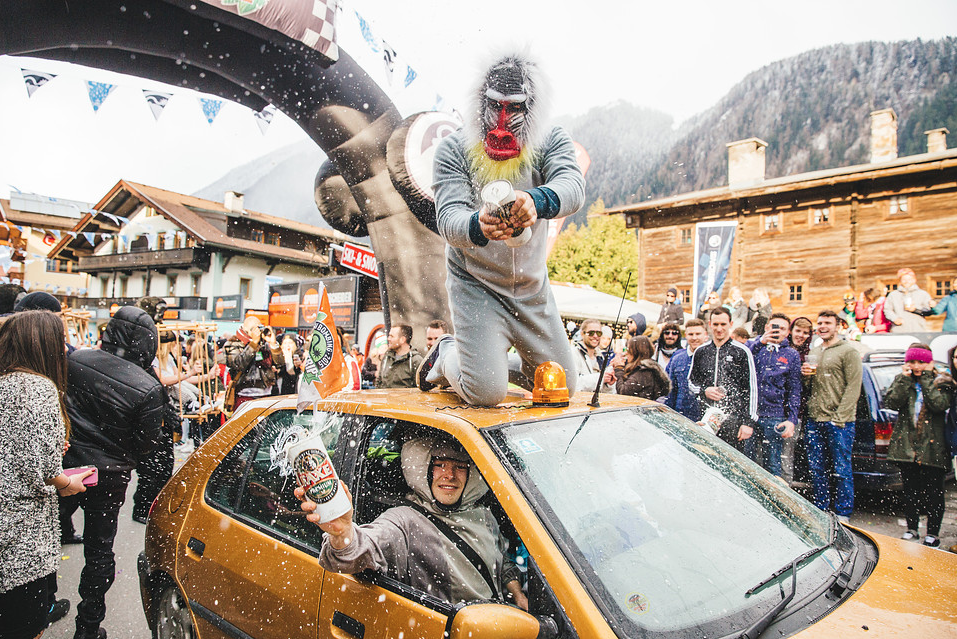 AUSTRIA: With blizzards and boarding abound, Broadwick Live's Snowbombing was certainly not a run-of-the-mill festival – and neither was Intellitix's cashless and access control deployment. To give faultless signal across the entire site, the team devised a bespoke solution that included installing the system's antenna 1,250m above the festival site from April 6 – 11.
Over 7,000 people flocked to Mayrhofen – in the heart of the Austrian Alps – to throw some shapes on the slopes and the dance floor. The week-long snow-fuelled festival saw acts including Basement Jaxx, MK, Skrillex and Rudimental provide the non-stop entertainment.
This year, festival organiser Broadwick Live embraced the latest event technology and introduced RFID-enabled cashless payments and access control for the first time. The cashless system was provided by Intellitix and implemented across all of the festival's main venues: Europahaus, Bruck 'N Stadl, The Racket Club and the Street Party and Forest Parties.
Serge Grimaux, CEO at Intellitix, said: "This was a bold move by organiser Broadwick Live. Snowbombing isn't your usual greenfield festival site; it takes place across various venues in a busy working town, so we needed to take a completely different approach to setting up our system."
Typically the system would use cables, but this wasn't possible for Snowbombing. Instead, to ensure 100% signal coverage across the entire site the team positioned an RFID antenna 1,250m above Mayrhofen. This gave a faultless signal reach spanning a massive 15k and 125⁰ radius, which powered the cashless and access system below.
"This was a very unusual deployment and worked faultlessly, despite the ever-changing weather, which even included an unexpected blizzard," continued Serge. "The results obtained were above and beyond Broadwick Live's most optimistic expectations and were a total success."
Next to the urban area and extreme weather conditions, this event was also unusual because of the temporary venues.
Serge said: "Not only did we setup and maintain the performance of the permanent venues, parallel to this we continuously built and took down one-night temporary venues such as the Street Party and The Forest Party. There were events around the clock."
Commenting on introducing the technology at Snowbombing, Broadwick Live director Alexander Bennett said: "The location was a challenge, but Intellitix provided fantastic support. The pre-loaded top-up levels from customers were better than expected, as was the ease with which customers took to the technology. The data we have gathered from this is also incredible, and now that we have tried the system once, I don't foresee us not using it again at Snowbombing. In fact, we're now keen to develop this further, as well as looking to roll it out at other Broadwick Live events."
Intellitix installed 160 cashless point-of-sale terminals, 40 top up stations and 15 access points which was supported by 32 handheld scanners and eight swap stations.
Serge concluded: "Snowbombing is proof that cashless and access systems can work in even the most unusual of locations and are extremely robust solutions for events looking to improve both spectator experience and vendor turnover."
For further coverage of Snowbombing 2015, check out the May issue of Total Production International.
Header photo credit: Danny North