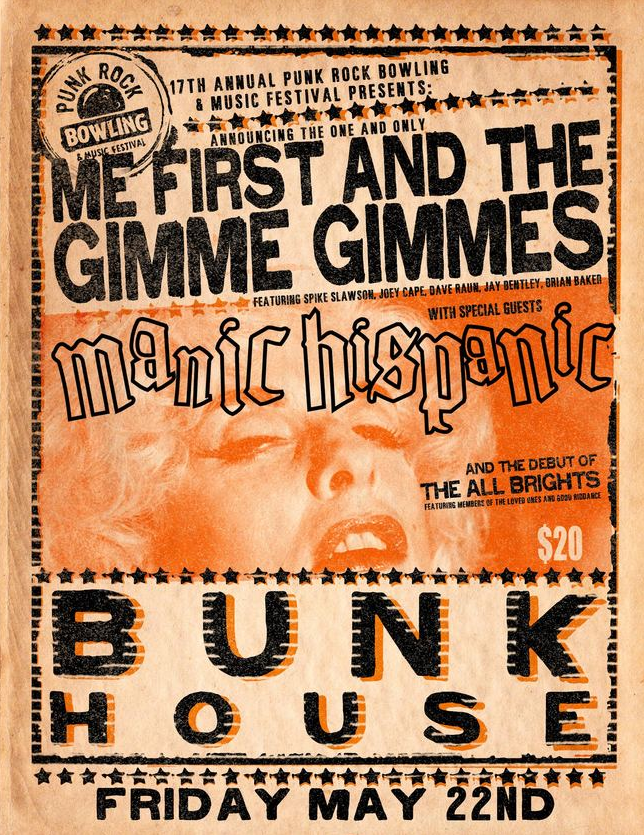 USA: Punk Rock Bowling, the three-day music festival that will take over downtown Las Vegas from May 22 – 25, had added another club show on May 22 at Bunkhouse with Me First and The Gimme Gimme's, plus special guests Manic Hispanic and the debut of The All Brights (featuring members of the Loved Ones and Good Riddance).
The 17 late-night club shows – starting May 22 – give fans the opportunity to see their favourite bands in a more intimate setting. Over 60 bands will take to the stage throughout the weekend.
Acts performing in these intimate venues include Frank Turner (performing solo), GBH, The Rezillos, Laura Jane Grace, 7 Seconds, Hagfish, 88 Fingers Louie, Icons of Filth, Aggrocats (featuring members of Aggrolites and Hepcat), Street Dogs, English Beat, and many more.
In addition to the three main stage headliners of Rancid, Dropkick Murphys and Refused, other bands confirmed for the festival stages are The Mighty Mighty Bosstones, Murder City Devils, Conflict, Turbonegro, Bad Manners, and Sick Of It All, Jello Biafra and the Guantanamo School of Medicine, Anti-Flag, Swingin' Utters, A Wilhelm Scream, The Business, Bombshell Rocks, The Muffs, Mahones, Sniper 66, PEARS, I.R.A., Success!, Get Dead, Avenue Rockers, Eliza Battle, Sounds of Threat, and Battle Born.
The outdoor music festival, which will take place at 7th Street and Stewart Avenue, near Las Vegas' famed Fremont Street, is an all-ages, all-day event, and food, drink, music and clothing vendors will line be on hand. Supplementing the music will be the titular two-day bowling tournament, pool parties, poker tournament, music and comedy shows.
For more information and to buy tickets, please visit Punk Rock Bowling's official website.