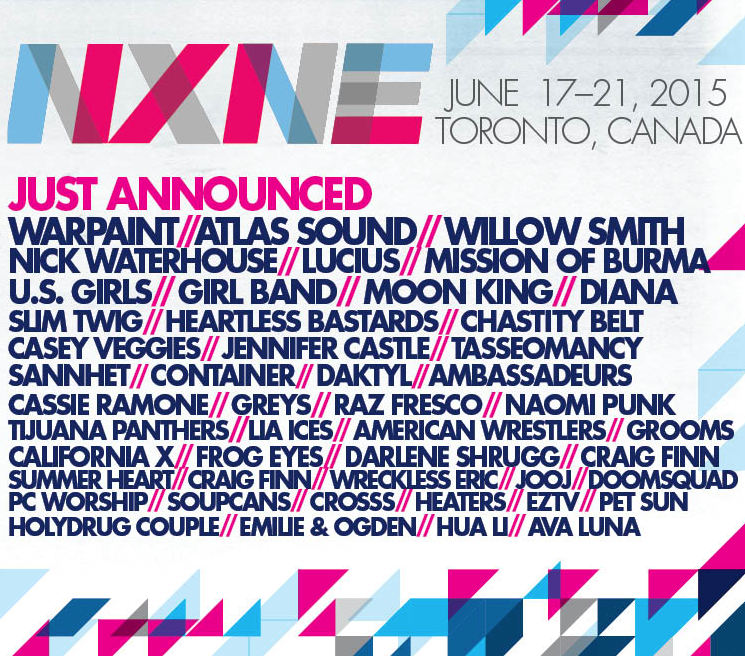 CANADA: North by Northeast (NXNE) has confirmed its latest round of music programming for the festival, which features an eclectic mix of hometown heroes, and the most anticipated new acts of 2015. Taking place June 17 – 21 in Toronto, with previously announced artists including Action Bronson, The New Pornographers, Rae Sremmurd, and Best Coast, NXNE has now confirmed performances by psych-rock quartet Warpaint, Bradford Cox's solo project Atlas Sound, and 14-year-old mega star Willow Smith, who released her debut single, Whip My Hair, via Jay Z's Roc Nation.
Also confirmed for NXNE 2015 is the soulful and dapper Nick Waterhouse, post-punk veterans Mission Of Burma, the charming indie pop band Lucius, garage rock foursome Heartless Bastards, and Dublin's rising Girl Band.
NXNE is making sure to champion female-led acts including U.S. Girls, Seattle's Chastity Belt, Toronto's own singer-songwriter Jennifer Castle, twin sisters Tasseomancy, Cassie Ramone of Vivian Girls, Lia Ices and more.
The Festival will also host shows by synth-pop trio Diana, the self-described Prince of West Coast hip-hop Casey Veggies, Toronto's shoegaze masters Moon King, techno-noise artist Container, experimental metal group Sannhet, Mad Decent's beat-driven Daktyl and garage rock trio Tijuana Panthers.
Other additions to the new round of programming include: Greys, Raz Fresco, Ambassadeurs, Slim Twig, Naomi Punk, American Wrestlers, Grooms, California X, Frog Eyes, Summer Heart, Craig Finn, JOOJ, Darlene Shrugg, Doomsquad, PC Worship, Soupcans, Crosss, Heaters, EZTV, Holydrug Couple, Pet Sun, Emilie & Ogden, Hua Li and Ava Luna.
For more information and the full line-up, visit NXNE's official website.