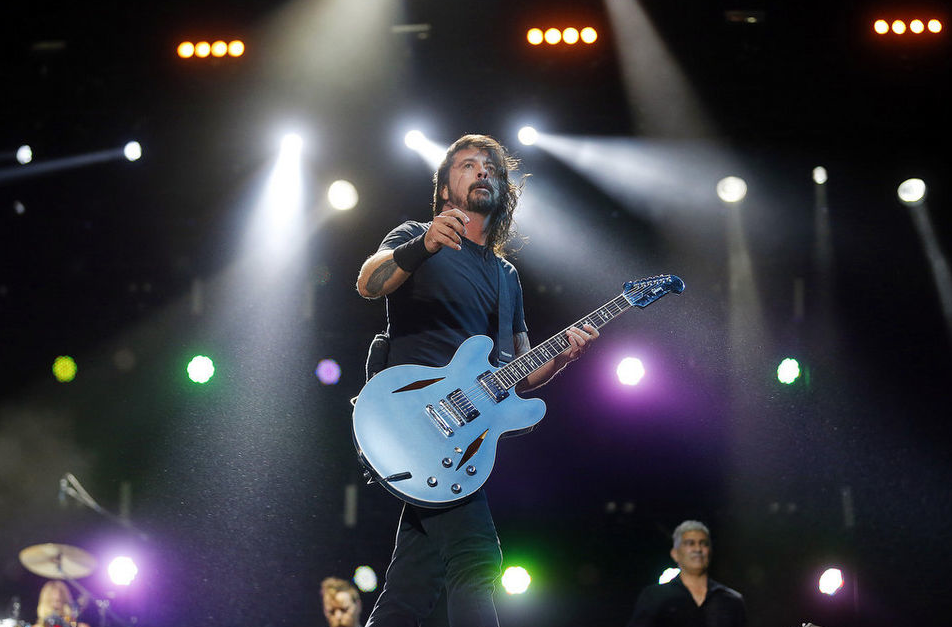 USA: Bandit Lites recently supplied the lighting for Alabama's Hangout festival, which took place May 15 – 17 and featured sets from Foo Fighters, Beck, the Zac Brown Band, Umphrey's McGee, Skrillex, My Morning Jacket, Foster the People, Paramore and Spoon.
With a Ferris wheel, a beach house hangout, VIP areas, gourmet beach fare and a viewing tower known as the 'Mega Drop', this year's festival also touted a craft beer courtyard that boasted draughts from Goose Island, Lagunitas, New Belgium, Straight to Ale, Southern Tier and Abita.
Designed by Dizzy Gosnell, Bandit provided six trusses for the main stage's overhead lighting rig, loaded with VL 3000 Spots, VL3000 washes, VL 3500 washes, Sharpies, Atomic Strobes, and 4 lite DWE Moles as the main illumination for all of the acts, controlled with 2x Grand MA2 Lighting desks.
"Hangout pretty much starts our festival season and it's become one of the more unique festivals," said Gosnell. "Right on the beach, palm trees for days, and some really top bands and acts on all stages. All the systems were designed to give the visiting band designers a rig that can generate big fat looks. With 20 – 40,000 people watching some of the stages, there is no need for finesse. What I call 'helicopter looks' are the order of the day for the headliners really, stuff you can see from a quarter mile away."
Additional gear included 4 Lite Moles, old school PAR 64's and Color Blast 12s for the FOH Lighting and Stage Scrims and Lycian M2 follow spots as part of the FOH package.
For the Foo Fighters' set Friday evening, Bandit provided 42 GLP Impressions, and 18 DWE 2 Lites as part of a supplemental lighting package. "They were used on a 6 additional trusses underhung upstage in two groups of 3 to form a back wall," explained Bandit Project Manager Don Lockridge.
The additional stages featured a two truss system with the downstage truss utilizing GRN fixtures for wash color and VL 2500 spots for specials and colored texture. One of the stages displayed a 56' 1/2 Oval Truss with eight 4 rung ladders to fill the space upstage and provide dynamic backlight for the various bands. These ladders consisted of VL 2500s, GRN Moving Washes, and Clay Paky Sharpys. On the oval truss, Bandit placed GRN Moving Washes, Atomic strobes, and Bandit 5 x 5's.
"The 5×5's have high output for punch and effect," said Bandit Project Manager Shawn Lear. "These also create letters and you can imagine the fun that was had spelling things out. 'Hangout' was the obvious communique."
Another stage had two 20 foot trusses split hung at an angle upstage, with ladders holding GRN Washes, VL 2500s and GRN LED 8 Lights for hits and punch.
The secondary stages FOH included a network of Grand MA 1 consoles, and CAT 6 Lines for traveling media severs and video integration.
"We took into consideration that each stage would have plenty of high intensity color wash, with hard edge spot fixtures for fined tuned texture and appeal," added Lear. "Each stage had the ability to invoke the Artist LD, the moods of the artist's lyrics, and excitement for both the really big looks and sends offs."
"Hadden Hippsley, Steve Drymalski, Roger Picone and Richard Wold run the show from our perspective, and are such professionals to work with. Communication is key with the run up to each festival, and that's never a problem with Lambda," added Dizzy.
Bandit's crew for the festival included Andy French, Trevor Figle, Shane Harrington, Chris Shrom, Teresa Porterfield Fensler, Greg Ogne, Julie Cox and Chase Bosworth.