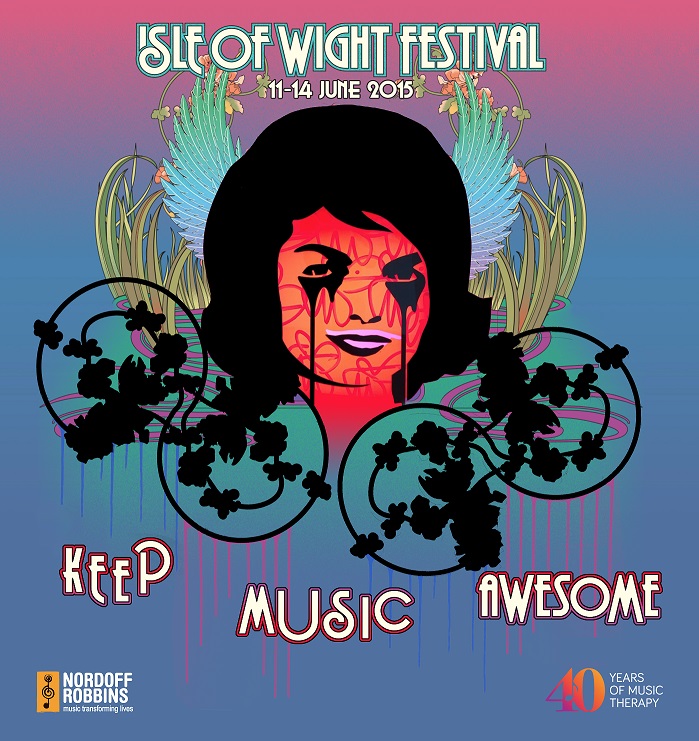 UK: In celebration of its 40th Birthday, music therapy charity Nordoff Robbins has teamed up with acclaimed street artist Pure Evil and the Isle of Wight Festival to launch a new music and art initiative to raise vital funds for the charity.
Nordoff Robbins is the largest single music therapy organisation in the UK, and is dedicated to transforming the lives of vulnerable children and adults through the specialist use of music therapy.
To launch the initiative, Pure Evil (real name Charley Uzzell-Edwards) has created an exclusive special edition logo for the Isle of Wight festival, bearing his trademark 'dripping' celebrity portrait image, made famous through his popular 'Nightmare Series', and utilising the festival's original and iconic artwork.
The initiative will also see Pure Evil create four new, unique art pieces exclusively for Nordoff Robbins – three of which will be painted at the Isle Of Wight Festival on June 13, with the fourth piece to be painted live at the charity's annual Silver Clef Awards, which on July 3 will celebrate its milestone 40th Anniversary.
The subjects of these unique pieces will be 2014 Silver Clef Award winner Pharrell Williams – who will be playing at The Isle Of Wight Festival this year – alongside Isle of Wight Festival veterans Keith Moon and the legendary Jimi Hendrix. All pieces will be signed by Pure Evil himself, and Pharrell Williams will be signing his art piece in support of Nordoff Robbins.
These three exclusive creations will be up for grabs to the public at the Pure Evil Gallery until July 3, where silent bids will be taken for each piece. The subject of the fourth and final piece is yet to be unveiled, but will be auctioned off on the day of the awards, with proceeds from all four pieces going towards transforming lives through music therapy.
Pure Evil said: "I'm completely blown away to be involved in this project. I believe all art has a soundtrack, and I believe somebody else said 'without music, life would be a mistake' – it's all true. I'm excited to collaborate with Nordoff Robbins, and celebrate the legendary Isle of Wight festival by doing some stonking paintings and to hopefully raise some money for an amazing charity."
John Giddings, Festival Promoter for Isle of Wight Festival, said: "The Isle of Wight Festival has supported Nordoff Robbins for a number of years and we are very excited to be collaborating on such a creative and innovative project. I'm looking forward to seeing the three pieces being created on the festival weekend!"
Jo Carter, Director of Fundraising and Communications at Nordoff Robbins said: "We are thrilled to be working with both Pure Evil and The Isle Of Wight Festival on this very exciting project which so uniquely brings together art and music. It is wonderful to be launching such an innovative initiative in such a special celebratory year for the charity and it will help us raise those all-important funds to ensure we can keep transforming lives through music therapy".