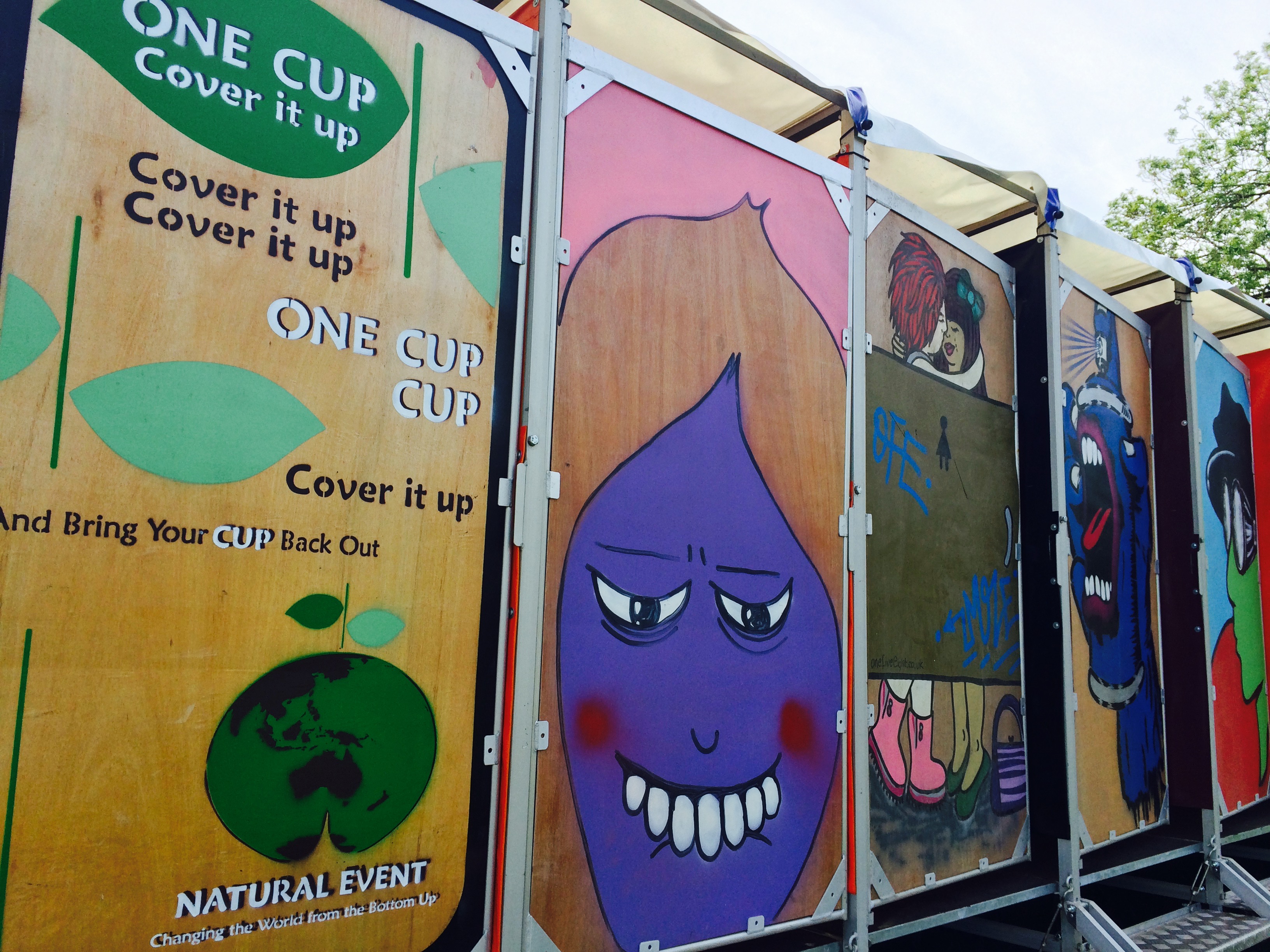 UK: For the 5th time, Anglo-Australian company Natural Event will play a key backstage role at Glastonbury this year, with a record-breaking 1,111 of its uniquely art-worked composting toilets being installed. Designed with dignity in mind, the loos will make up around a fifth of all toilets on site, situated at 101 locations to cater for the five-day event's 210,000 participants.
Natural Event's loos do not require water or chemicals, and unlike chemical loos they are low-odour and don't require regular mechanical emptying by trucks – a process that is noisy, polluting, dangerous and disruptive. Furthermore, Natural Event's loos store the 'humanure' before turning it into valuable compost for use on nearby farms. Using the compost loos also causes an impressive reduction in use of sewage removal tankers, drastically reducing the transport impact of sewage. Only eight 'suck trucks' were used in 2014 compared to 42 in 2013 – a direct result of the increased use of compost toilets.
Natural Event's unique toilet design involves a solid-liquid separation system that reduces waste volume and involves no chemicals; only sawdust that helps to break down solid waste whilst also reducing odours. This contrasts starkly with chemical loos, which use unwelcome biocide chemicals that require intensive treatment at sewage farms.
Last year, Glastonbury Festival contracted 911 Natural Event toilets, helping to generate a sizeable 200 tonnes of compost, so this year's order of 1,111 loos is expected to yield 250 tonnes; that's enough to spread over 30 acres of land (60 football pitches) at eight tonnes / acre. Last year's use of the composting toilets was commended by Mendip Council, the area's local authority.
Hamish Skermer pioneered the toilet design and is the founder and Managing Director at Natural Event. An environmental chemist and music festival organiser, he is a global key opinion leader in the field of composting loos, speaking at TEDxSydney last month. In his words, "It's great to know I'm viewed as a valuable partner by Glastonbury's organisers, and exciting to see demand for our loos grow as clients realise how much users value maintaining their dignity when using a festival loo. We very much believe we are the only mobile loo that actually delivers value for money."
Natural Event will be also be providing 700 composting loos for forthcoming Boomtown Fair near Winchester, Hampshire, in August. The company is fast expanding internationally, with enquiries coming from USA, France, Belgium, Holland, Austria, Croatia, Slovenia, Spain, Germany and Scandinavia.
Hamish explained: "Event organisers do their research and talk to each other: feedback about our service from promoters and production companies has been excellent. What we do involves dedication and we're building up an experienced team. Our philosophy is that it's always worth going the extra mile."
For more information, check out Natural Event's official website.