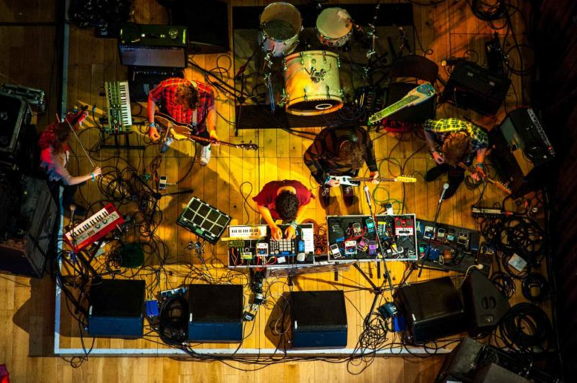 UK: Simple Things Festival will return to Bristol on October 24 for its fourth instalment. The multi-venue, one-day festival has announced the first wave of acts for the event.
This year's standalone opening party will be headlined by legendary Montreal post-rock band Godspeed You! Black Emperor. Initially formed in 1994, the band has become revered among the greatest purveyors of their saturnine, orchestral strain of rock music, with 2000's Lift Your Skinny Fists Like Antennas to Heaven regarded as one of the genre's definitive landmarks. Armed with this year's superb Asunder, Sweet and Other Distress, the nine-piece will fill the very farthest reaches of Colston Hall's grandiose main room on the Friday night.
Brooklyn-based experimental math-rock adventurers Battles head up the main festival bill, picking up where Liars left off last year. The pioneering trio have returned in 2015 with rumours of a third long-player on Warp and only a handful of intimate, sold-out shows worldwide. This will be an extremely rare headline performance for the band.
Arthur Jeffes brings his current incarnation of the highly regarded Penguin Cafe (previously Penguin Cafe Orchestra), an array of classically trained musicians mixing hypnotic, Philip Glass-style minimalism with folk and world music. Percussive and string music that magics up something mesmerising in sound.
Post-punk / art-punk royalty Wire bring their extensive back catalogue, including cuts from peerless 1977 debut Pink Flag, to proceedings, while Gabe Gurnsey and Nik Void will be flying the Factory Floor flag and offering their trademark propulsive percussion and convulsive synths.
Dean Blunt – renowned for consistently delivering compelling and unpredictable performances, often emitting ferocious strobes, dry ice and searing emotional catharsis – will also be stepping on stage.
One of the originators of Chicago's ghetto house sound and Dance Mania stalwart DJ Funk will also be playing a rare live performance. Elsewhere recent Ninja Tune's Romare will deliver his collaged, cut'n'paste style, informed by his African American Visual Culture academic background.
Other live acts include Speedy Ortiz, Liturgy, Lower Dens, Nicole Willis & The Soul Investigators, Chastity Belt, Long Arm, Grumbling Fur, Loyle Carner and Danny L Harle.
The DJ line-up so far comprises Ron Trent, Objekt, Mike Skinner, Hunee, Barnt, Helena Hauff, nd_baumecker, Avalon Emerson, and Discodromo.
For more information, check out Simple Things' official website.