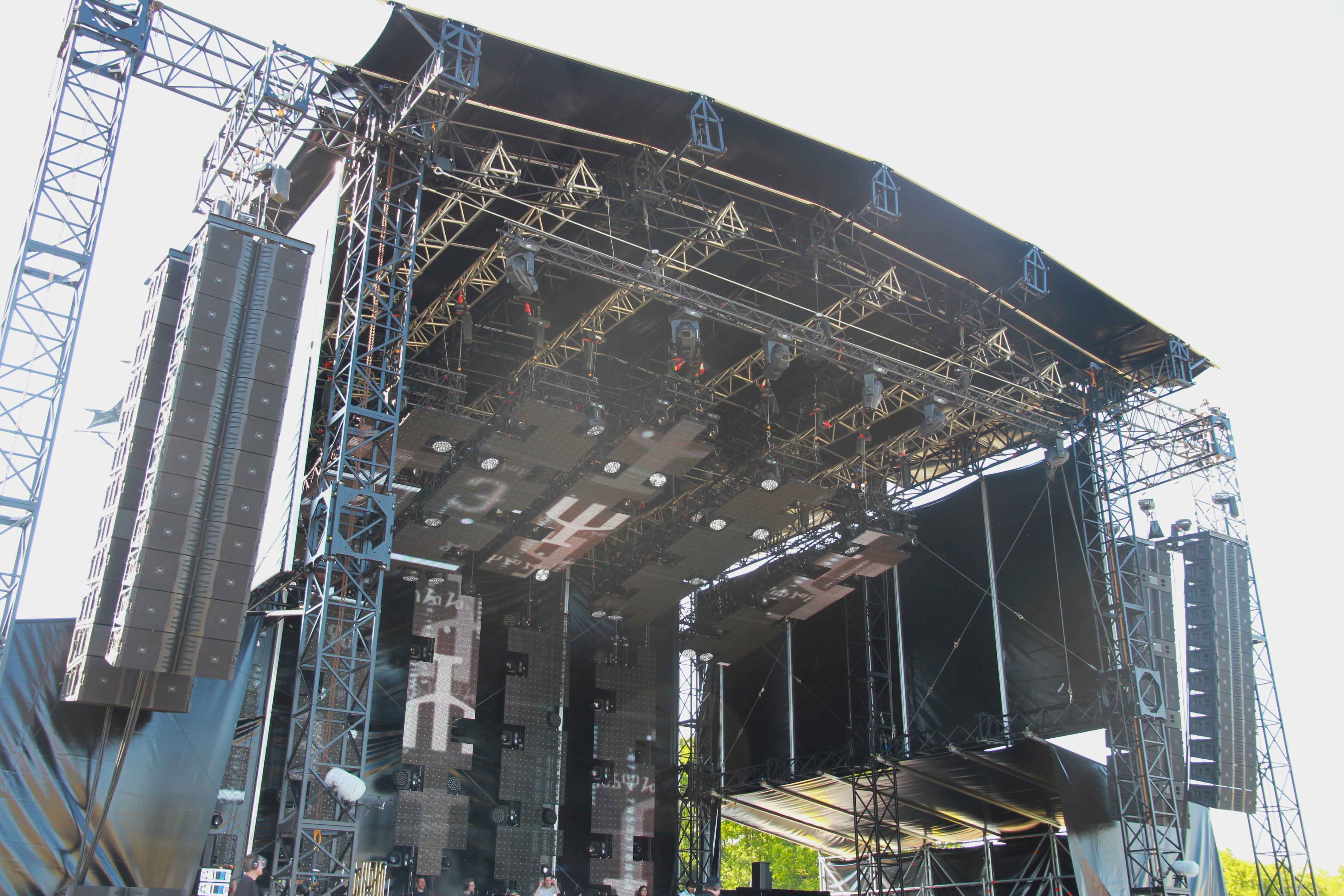 FRANCE: As part of a major Harman Professional package, over 100 JBL VTX V25 line array elements were deployed across five stages at the recent four-day Weather Festival in Paris. Celebrating its third year, the promoters chose a 100,000 square metre site in the Bois de Vincennes in order to pursue its mission of being a sustainable event. With environmental concerns as its main priority, this was considered a landmark event.
The festival brought together 70 artists over the four days and the crowds were treated to non-stop energy and high quality sound delivered by a JBL VTX system throughout. The sound design was in the hands of Décisions Acoustiques, who also exercised environmental control across the five stages, maintaining coherence and consistency throughout. The system was sold through French distributor SCV.
Under the expertise of Guillaume Reilbell, who calibrated the sound on the two large stages, and Wilfried Mautret, who was responsible for the other three, a total of 108 JBL VTX V25 line array elements were deployed, along with 84 flown VTX S28 subwoofers.
A further 14 JBL VRX932LA Constant Curvature loudspeakers were used as stage fills, and the entire system was powered by a combination of 14 Crown VRack systems housing I-Tech 12000HD amplifiers, and 24 VRack systems housing I-Tech 4x3500HD amps.
The 80 instrumental source inputs required for the opening electro performance, along with the classical orchestra, were managed and mixed in a Soundcraft Vi6 digital console. Also within the Harman stable, a large number of AKG's classic C414 condenser microphones were used by artists, who included Jeff Mills, Derrick May, Nina Kraviz, Ricardo Villalobos, Lil Louis, Robert Hood, Ben Klock, Marcel Dettmann, DVS1 and many more.
Summarising the event, Florian Pancrazi, partner in Décisions Acoustiques, outlined the challenges. "With five stages assembled on the same site we had to design sound reinforcement systems that would not bleed or interfere with the other zones, while maintaining effective low frequency sound that is essential to electro music programming," he said. "We decided to use the same setup right across the board to maintain consistency for an audience that was travelling between the different stages."
"Once again we chose the VTX V25 systems, which had more than satisfied requirements at the previous edition, allowing us to achieve perfect optimisation in each case, through specific presets which were easily managed in JBL HiQnet Performance Manager software," Pancrazi continued. "On the two large stages we hung the subwoofers in cardioid formation behind the V25s. This resulted in a consistent performance, containing the sound and preventing spillage onto adjacent stages while at the same time limiting sound propagation to neighbouring homes to the maximum."
For more information, check out Harman's official website.