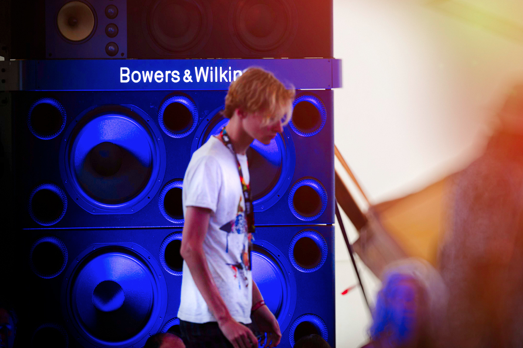 UK: Bowers & Wilkins, the British audio innovator, will return to WOMAD 2015 with its genre-defining 'Sound System' that reportedly delivers Hi-Fi quality sound in a festival environment.
After a successful debut last year, Bowers & Wilkins, in association with Real World, will again be programming its own stage at the festival, named Bowers & Wilkins Sound System, creating a line-up tailor-made for its 135,000 Watt speaker stack that will bring absolute clarity to an audience of audiophiles.
Bowers & Wilkins Sound System – which will have an increased tent capacity this year – again promises to offer the audience a more rewarding and immersive festival experience by bringing them closer to the music and innovators that are pushing the boundaries of sound. The stage will celebrate the art of listening via a series of engaging talks, DJs and live performances from an eclectic selection of artists.
Proceedings will start in the morning with sound-related activities for children and build throughout the day, with talks from the likes of The Soundsavers – looking at 125 years of recorded music at the British Library – performances from East India Youth, Cara Dillon, Hannah Peel and John Metcalfe and culminate in full-on party mode with DJ sets from Analog Africa Sound System, Don Letts and Soul II Soul legend Jazzie B.
At the centre of the weekend's events will also be a celebration of the Moog Synthesiser spearheaded by acknowledged analogue synth experts Will Gregory (The Will Gregory Moog Ensemble) and Richard Norris (The Grid) and an interactive session with the legendary Moog Sound Lab.
Bowers & Wilkins developed Sound System to bring studio-quality sound to the festival environment, creating a dynamic and heightened listening experience for audiences. Created with over 45 years of acoustic excellence and craftsmanship, the towering 4-way active speaker system weighs-in at 4 metric tonnes and delivers a level of audio details previously unheard at live performances.
Bowers & Wilkins Brand Director Danny Haikin said: "This year our stage line-up is a celebration of sound. There is something for everyone from talks on sound recording, to very special performances from select artists to late-night, not-to-be missed, DJ sets from those who celebrate sound-system culture."