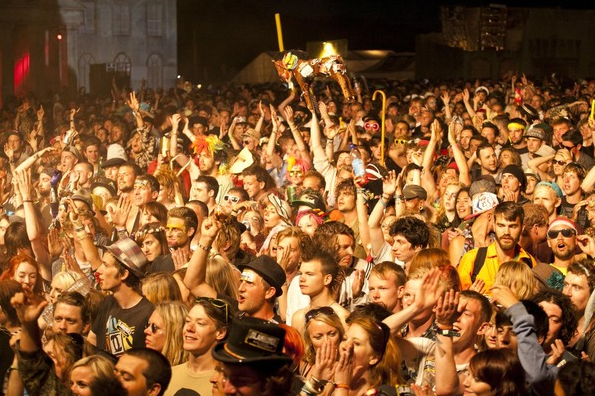 UK: With just under 30 days to go until BoomTown opens its gates, the UK's largest independent festival has announced a new area, complementing 24 stunning themed main stages across a huge festival site.
Located deep within the numerous woodlands spread throughout BoomTown, House In The Woods will encapsulate the innovators and dreamers behind the best in house, disco, techno and boogie with a curated line-up from four of the UK's most influential tastemakers.
Further igniting the house-heavy vibes on Friday will be renowned Bristol natives Shapes, who'll be teaming up with underground trailblazers Flux to bring two legendary figures from the underground dance scene to the hallowed BoomTown turf. A Guy Called Gerald has continuously re-writing the rule book for dance music and will be showcasing his History Of House Set under the mesmeric woodland skies. The night gets even bigger with pillars of the underground dance world Horse Meat Disco stopping by to deliver a set of deep house nuggets.
On Saturday, it's the turn of infamous Bristolian crew Alfresco Disco to take the reins for an unpredictable night of breath-taking beats. Alongside their acclaimed residents will be a unique headline set from Raf Daddy of The 2 Bears, who have set the scene alight in recent years with two acclaimed studio albums combining two step, house, hip-hop and soul. It's a night destined to live long in the folklore of BoomTown.
After a weekend of rhythmic debauchery, it will fall to the mighty Electric Minds to shake House In The Woods one last time with a night bursting with mavericks of the underground dance world. Iconic Electric Minds boss Dolan Bergin will be on hand to oversee a line-up that includes the dynamic Amir Alexander, who will be transporting the loyal residents of BoomTown to the gritty sounds of modern America, and celebrated 'outsider' Pangaea, appearing in the midst of a worldwide touring schedule that has seen his nostalgic drum and bass sound reach thousands. Topped off by an appearance from George Levings (Commix) new musical project Endian, The House In The Woods is likely to shake BoomTown to its knees.