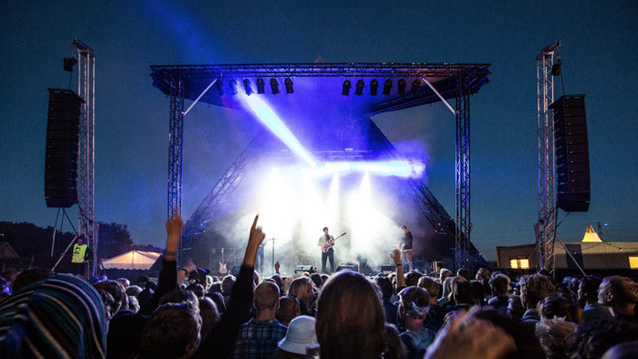 DENMARK: At Denmark's Roskilde Festival — the largest music festival in northern Europe — the new Leopard linear sound reinforcement system led a line-up of more than 200 Meyer Sound loudspeakers to deliver pristine sonic detail and immersion to crowds at four different stages. The smallest and most versatile member of the Meyer Sound LEO Family of loudspeakers, the patent-pending Leopard system was launched this spring to great acclaim.
"Leopard was amazing — I could hear every instrument clearly and distinctly more than 50 meters from the stage," said Lars Liliengren, production manager for Roskilde. "We strive for perfection here at Roskilde, because we have only one chance each year to get it right."
Roskilde Technical Manager Paul Jensen added: "The sound was very open and very dynamic. I could close my eyes and hear every detail of the instruments from the bands that were playing."
Supporting the Rising Stage, the Leopard system was provided by Glostrup-based Comtech, and included main arrays of 12-each Leopard line array loudspeakers and dual, ground-stacked, steered-gradient arrays of six-each 900-LFC low-frequency control elements.
"We needed a lightweight system for this stage and Leopard was exactly right for the job," said Jes Hylby Christensen, head of production for Comtech. "And it was also easy to integrate the new Leopards with our existing Meyer Sound inventory. It's like working with Legos — they all fit together perfectly."
In addition to Leopard, a Lyon linear sound reinforcement system, another member of the Meyer Sound LEO Family, was provided for the 16,000 capacity Avalon Stage by Aarhus-based Victory Tour Production. The system was anchored by dual front hangs of 10-each Lyon linear line array loudspeakers and four flown cardioid arrays of six-each 1100-LFC low-frequency control elements, one at each front and delay location. Two delay towers comprised another 10 Lyon loudspeakers each.
"Lyon is small but powerful, which made it the perfect choice for the Avalon stage, as the stage rigging allows only ten boxes per side," said Theis Romme, head of audio for Victory Tour Production. "It was easy to rig everything in less than a day, and all the engineers were very happy with the sound of the system."
Elsewhere, Roskilde's Pavilion Stage was supported by a system built around side clusters of five-each JM-1P arrayable loudspeakers and twin cardioid stacks of three-each 1100-LFC elements. A 'Ghettoblaster' mobile DJ truck powered by six JM-1P loudspeakers and eight 1100-LFC elements also carried high-energy EDM music around the festival site. Galileo Callisto loudspeaker management systems provided system drive and alignment for the Rising, Avalon, and Pavilion Stages.
Morten Büchert, the principal sound consultant for Roskilde, played a key role in determining system providers and evaluating their performance. "All stages must be ready to fully serve the artists and the audience," he said. "In that respect, the LEO Family is a step forward in sound reinforcement and is a significant complement to the music at Roskilde."