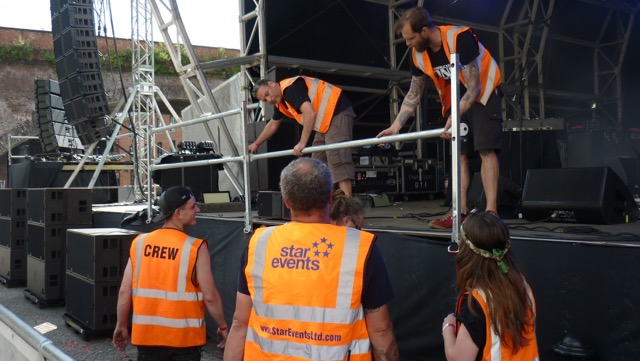 UK: Star Events is continuing its campaign to make stage construction safer with the introduction of a tool-free handrail for the downstage edge of festival / event performance platforms. Developed with an industry specialist and trialled during 2014, Star Events' handrail has had an immediate impact at sites this summer, clipping in and out of adapted sockets on performance stages simply and quickly.
Rookie Manning, Health & Safety advisor to SJM Concerts at Summer in the City, commented: "Star Events' system provides an excellent solution during build and strike phases of a production and I cannot see any reason why it shouldn't be used at all future events.
"The handrail can be erected or removed by two crew members in a matter of minutes and having seen a number of people fall from stages over the last 16 years, I will have no hesitation in recommending it to clients."
Star Events' Head of Structures, Pete Holdich, said: "This kind of protection improves the working environment for all departments and offers a demonstrable benefit to clients in complying with safety obligations at their events."
SJM Production Manager, Junior Wood, said: "Give the Star Events teams a problem and they will give you a solution."
For more information, visit Star Events' official website.