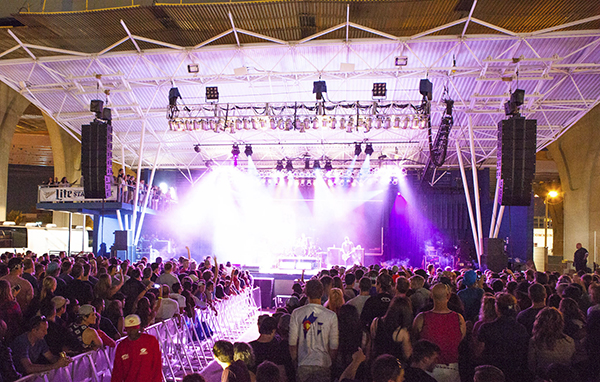 USA: Adamson Systems Engineering was tapped to provide sound reinforcement for the Miller Lite Oasis Stage at this year's Milwaukee Summerfest. The 11 day music festival features 11 stages, more than 800 acts, 1,000+ performances, and draws an average of 900,000 music lovers from across the country.
The E-Series rig reinforced an assortment of big-name acts including Bastille, Public Enemy, Time Flies, Kip Moore, Sublime With Rome, Sammy Hagar, and Smash Mouth.
The 52,000 square foot Oasis accommodates up to 9,500 fans. Adamson's Applications Engineer Brian Fraser created the system utilising Adamson's Blueprint AVTM software to design a rig that would blanket the area while not overflowing into the festival grounds.
Fraser specified left-right arrays made up of six E15 and three E12 line array enclosures hung from ceiling trussing located above the stage. Front fill was provided by four S10 enclosures positioned along the lip of the stage while eight more S10 boxes handled outfill duties. The system was completed with 16 E219 subwoofers, ground stacked in front of the stage, to provide the low end needed to accommodate the variety of performances scheduled for the stage.  
"Mixing on an Adamson E series rig for the first time, I was blown away," added Ben 'Snake' Schmitt, FOH engineer for Kip Moore. "The coverage was second to none, and maintained a consistent sonic quality from the first row to the last. Punchy, transparent, responsive and clear, these boxes are fun to mix through. I'm already looking forward to the next time I'm able to mix on an Adamson rig."
Amplification and processing were provided by four 12-channel E-Racks loaded with Lab.gruppen PLM20K44 amplifiers with Lake Processing.
"The E15 is a very versatile and powerful rig, it kept up with our entire set without breaking a sweat," added Bryan 'Froggy' Cross, FOH engineer for Sublime with Rome. "I really wanted to drive it at the end and it barely touched limit – and my monitor engineer said I shook her coffee off her case, so I'll take that as the subs kicked ass. I got a super tight controlled response from them."
Milwaukee-based Clearwing Productions was responsible for the sound, lighting and staging for all stages at the festival, including the Miller Lite Oasis. Bryan Baumgardner, audio operations/logistics for Clearwing added, "The Adamson rig performed flawlessly. The ease of deployment as well as the low end was quite impressive."
For more information on Adamson, check out their official website.