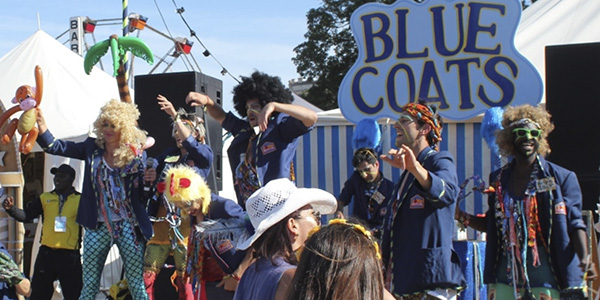 UK: Attendees were excited about Camp Bestival once again this year, and Showsec has received recognition for their part in the occasion, even from many of the children who revelled in all the fun at Lulworth Castle.
The award-winning family festival enhanced its proud reputation with four days of the very best in music and entertainment in picturesque surroundings close to Dorset's Jurassic Coast, made all the more enjoyable by the warm, sunny weather.
It left organisers hailing it as the best-ever Camp Bestival and those who made the annual pilgrimage to Lulworth Castle were in full agreement.
The theme in 2015 was 'goes wild' for the festival's eighth year and there were so many wonderful ways in which people of all ages could do just that.
"The challenge each year is to make the event even better and keep it fresh, so I think we can safely say it was mission accomplished in that respect," commented Dave Grindle from Loudsound Productions, who was the Festival Manager at Camp Bestival.
"There has been so much fantastic feedback and so many people who have been coming here for years have said this was the best one so far.
"We aim to make it the most amazing family party you will ever go to, but couldn't do that without tremendous support from the whole Camp Festival team.
"That includes Showsec who have embraced the whole ethos of the festival and made such a positive contribution to this special environment."
He added: "Security and safety are important elements of the festival operation, but so too is having a very customer focused approach to that service."
Showsec deployed 350 staff across the arena and campsites, while they also worked closely with the Oxfam volunteers who acted as stewards.
The fact that it is a family festival means there is approximately a 50-50 split between more than 15,000 adults and a similar number of children attending a festival which is different in so many respects to others in the Company's summer programme.
"There is a great deal of emphasis on being a friendly face of the festival," said Tracey McCarthy, Showsec's Area Manager for the South Coast.
"Just as Camp Bestival gets better and better each year, so do we endeavour to raise the bar even higher with our level of customer service.
"It is very satisfying to receive so many positive comments about our contribution to the success of the event, especially from members of the public and, in particular, thank you messages written by children and handed to our staff."
She added: "Many of our staff have been working this event for a number of years now because they love Camp Bestival's special atmosphere, while those who joined us for the first time this year have certainly enjoyed the whole experience.
"Because of the audience profile, it is important that we have the right staff on duty to ensure we meet the high expectations in terms of customer service.
"For example, our response teams are entirely different here to those deployed at many other festivals. At Camp Bestival, one of their prime concerns is reuniting lost children with their families, which can occur quite often in such surroundings.
"With so much excitement around them, so many wonderful attractions, it's easy for a child to become detached from their family for a short while.
"In those circumstances, you need a friendly face and a calm, reassuring character who is going to respond in the appropriate way. This helps ensure those children are back with their families within a matter of minutes."
As well as being blessed with excellent weather throughout the festival, Camp Bestival offered a fantastic music line-up headlined by Clean Bandit, Kaiser Chiefs, and Underworld on each of the three show nights, while the programme also featured Professor Green, Ella Henderson, Sir Bob Geldof, Level 42, Wretch 32, and Alison Moyet.
The 'go wild' theme aimed to provide families with even more attractions which enabled them to discover the great outdoors in nature's playground and therefore make the most of the stunning surroundings at Lulworth Castle.
For more information on Loudsound Productions, check out its official website.