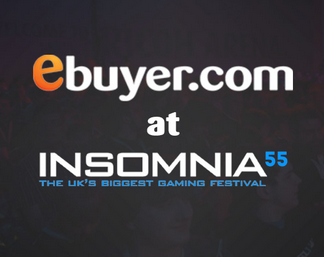 UK: Online retailer Ebuyer will be again be stocking the shelves of a physical store at this weekend's Insomnia gaming festival. The tech 'e-tailer' will be selling electronics and gaming equipment from their custom built stand at the UK's largest gaming festival, Insomnia 55 in Coventry.
For the second time this year, Ebuyer will have a physical store present at one of the UK's major tech events, after the success at April's Gadget Show. Ebuyer will be joined by selected partners including Acer, BenQ, Blue Microphone, Logitech, Synology, Fractal, EVGA, Crucial, Gigabyte, Intel, CyberPower, and Element Gaming, offering select deals and unique products for the event.
The online retailer will be offering special Insomnia 55 discounts on selected lines as well as free prize giveaways during the August event. Ebuyer will once again be running their 'GeekPride' campaign at the festival with free T-shirts, gift packs, and a whopping £600 prize bundle to a lucky winner.
The stand will house a number of exclusive attractions including a set of 4 Hydraulic gaming rigs from Crucial playing project cars, pop up racers pods, LAN PCs from Logitech, and an Oculus Rift from CyberPower.
Ebuyer will also have its own demo zone, featuring expert talks from gaming legends Ninja's in Pyjamas, workshops from the FM eSports team and expert build advice from gaming partners.
The 55th Insomnia gaming festival will be held in Coventry's Rico Arena from 28 – 30 August.
For more information on Ebuyer, check out its official website.