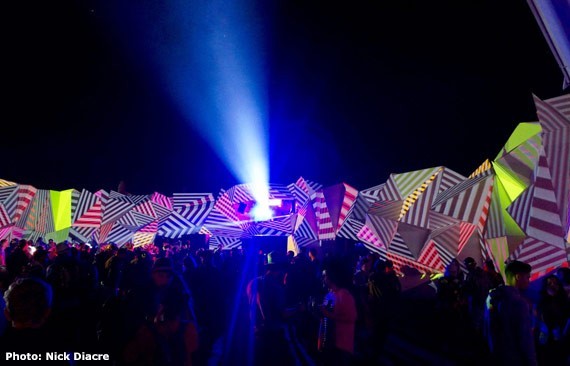 UK: Following a successful event at last year's festival, XL Video, working with Technical Producer, Nick Diacre, has once again produced a significant achievement in 180˚ live mapping for Shangri-La's Heaven Stage at the Glastonbury festival 2015.
 
The Heaven structure was built organically by Andrew Cross and his team, onsite at the festival, only a few days before the event, and the construction is different every year.
 
The wide, wooden structure consists of 419 tessellated triangles, which were mapped using photogrammetry and stitched into two composites – one a 2D map and a second 3D model.
 
XL's technical team, led by Christian Dickens, collaborated closely with Nick Diacre, and together they selected XL Video's Avolites Ai media servers for the project. Their plan was to explore Ai's abilities and to test its live mapping skills on an organic structure. In addition, the Ai was used as a video playback engine as well as for generating live visuals.
 
The 2D map was supplied as a template to content producers from throughout the Shangri-La community to enable them to design their visuals. Contributors included Enjoy Kaos, Olly Robertson, and Jouna Landsman. The content ranged from organic forms to audio reactive patches created within Ai.
 
The system also used triple and dual head capture systems, remapped within Ai patches to cover the whole structure at the maximum resolution.
 
Will Young and Thomas Hogan also programmed generative patches within VVVV, which were mapped to a 3d model with audio reactive effects and shading and then remapped to the main model within Ai.
 
The entire system used full redundancy using two of XL Video's S8 Ai servers, along with a Lightware DVI matrix switching between main and backup systems, as well as routing capture sources.
 
The capture sources were held by a bank of four Barco ImagePro HDs, as well as an additional ImagePro providing a source in the DJ booth.
 
The system was designed by Nick Diacre, who also managed engineering onsite working with XL Video's Erica Frost and Matt Barlow.
 
Frost also programmed an elaborate projector and source control surface using Coolux's Widget Designer interface. This allowed easy switching of multiple sources simultaneously, routing of main and backup signals as well as automated shuttering and powering down of the projection systems.
 
The projection canvas was 7680 pixels wide by 1080 pixels high, and was covered by four Barco FLM HD20 projectors. A second bank of FLM HD20s ran as hot backup, having been warped onto the elaborate surface using Barco's on-board warping software. Projection was managed by XL Video's Head of Projection, Warren Galt, with the assistance of Ella Galt.
 
Nick Diacre commented: "The rock solid system design, cutting edge technology and team of absolute professionals ensured this project was delivered flawlessly. The spectacle of Heaven was a huge improvement on previous years with the introduction of custom content based around the structure.
 
"Thanks go out to the team at Avolites Media for demonstrating the abilities of Ai in pre-production and helping us develop a workflow that worked for both mapping, capture and content delivery.
 
"Heaven never looked so good. Thanks again to Debs Armstrong and the Shangri-La team and Seain Loughlin of PF Events for getting us all involved."
For more information on XL Video, check out its official website.
Header photo credit: Nick Diacre