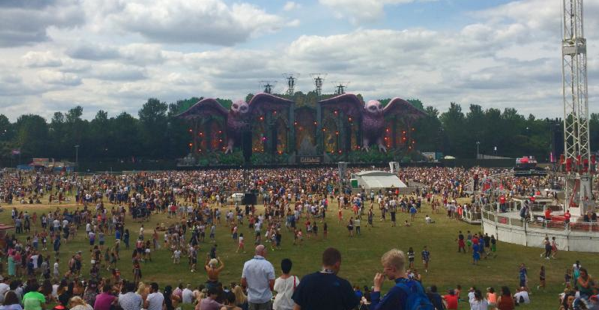 UK: Electric Daisy Carnival landed in England this year with its trademark colourful performers and EDM stars with lighting controlled by a host of Avolites consoles on two main stages. This year marked the third EDC in the UK and was again held at the Milton Keynes Bowl with headline acts including Tiesto, Paul van Dyk and Pendulum.
Design and production agency Electric Fly supplied an Avolites Sapphire Touch and Pearl Expert as back up to the neonGARDEN stage, operated by Ross 'Dubstick' Chapple. Over at the Pepsi Max cosmicMEADOW stage, Ben Hyman operated a Pearl Expert with the new compact Quartz consoles as backup.
The Avolites consoles were controlling a rig which included Clay Paky Sharpys, A.leda K10s, Atomic 3000s, Martin LC Plus Video Panels and Ayrton Magic Panels.
Nick Jevons, Creative Director at Electric Fly, oversaw the use of Avolites at the festival.
"I have a very longstanding relationship with Avolites as they have supported me throughout my career and that is something that I do not forget," said Nick. "Avolites consoles continue to impress me as new ones are released – such as Quartz – and updates to the operating systems are made available.
"We upgraded to Titan V9 for EDC UK and I was seriously impressed with the Key Frame Shapes feature of the new software which was used a lot on Ben's stage. Also, the ease of networking the consoles was a pleasure."
The Key Frame Shapes feature allows the designer to create spectacular effects from scratch. Using palettes or the programmer to define the frames, and powerful tools such as transition curves, phase and spatial direction, it is possible to create radically different looks for each channel in seconds.
The Avolites team was on site to support Electric Fly for the two main stages.
"Having technical support within the festival from Avolites meant we were able to learn about some of the new features of the consoles and V9, which was great," Nick continued. "However, the consoles performed excellently, as usual! Shows like these are multi-universes and take various types of fixtures. To handle these, consoles have to do more than 'just lights.' They need to handle LED fixtures and screens, be able to pixel map your show, and have flexibility. The Avolites consoles are more than up to the task."
Avolites' new Titan V9 also features tools such as Align, to effortlessly copy values from existing fixtures to new fixture groups, either in a recurring pattern or a smooth fade. RGBW and ARGB colour mixing and Pixel Mapping has been added to get maximum punch and more accurate colours from your LED fixtures, thanks to new, four-channel pixel mapping and colour mixing.
The Electric Daisy Carnival runs in both the US and the UK – making it one of the growing number of transcontinental festivals. It is scheduled to return to the Milton Keynes Bowl next summer.