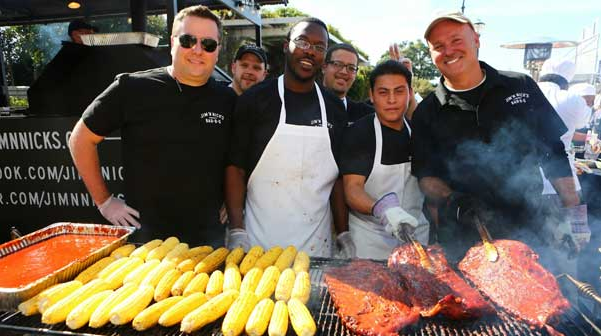 US: As an ostensible first in the Atlanta food festival scene, Taste of Atlanta will this year utilise Intellitix's Radio Frequency Identification (RFID) technology for the launch of its cashless payment system.
Returning to Midtown at Tech Square from September 25 – 27, the 14th annual Taste of Atlanta is teaming up with Intellitix, the leading provider of RFID technologies for live events, to be the first Atlanta food and drink festival to fully integrate RFID-enabled wristband technology into the entire event experience. The festival will feature RFID access control and cashless payment systems, making it easier and faster for attendees to enter and indulge in the festival – all with just the tap of a wristband.
"Looking at the success Intellitix has had with so many festivals across the world, it just made sense for us to incorporate their cashless technology system into Taste of Atlanta," said Dale DeSena, founder and President of Taste of Atlanta. "Technology is becoming more and more integrated in everything we do, especially in the dining world. The simplicity, effectiveness and cool factor of these RFID wristbands keeps Taste of Atlanta fresh and on-trend. This year's festival will be enhanced like never before – it will truly be unlike any other food event in the city!"
Utilising the RFID technology platform, Taste of Atlanta will now be a completely cashless event. Instead of paper-based tickets and sheets of taste coupons, festival attendees will receive their personalised RFID-enabled wristband containing an embedded electronic chip that scans them into the festival entrance. All ticket packages include a wristband, pre-loaded with 10 'Taste Points' (equivalent of $10), the official digital dining currency at Taste of Atlanta, which is used to pay for bites, brews and other merchandise at the festival. Tastes are tapas-sized, and cost one, two or three Taste Points each.
Buying tickets early, registering wristbands online and loading more Taste Points beforehand will provide hungry guests with enhanced benefits at the festival, including reduced wait times and improved customer service for lost or damaged wristbands. Patrons can 'top-up' their wristbands with Taste Point credits by registering them online in advance at the festival's official website, creating a personal profile and adding funds to the account via credit card.
Taste Points can also be added on-site either on a smartphone or at 'Taste Point Banks' located throughout the festival. Attendees even have the option to 'Auto Top-Up', meaning Taste Points can be automatically re-loaded to their wristbands whenever the balance falls below a set minimum amount. By enabling the Auto Top-Up feature, foodies can continue wining and dining without running out of funds and having to interrupt their festival experience looking for a Taste Point Bank onsite.
After the festival, any remaining Taste Points from attendees' cashless accounts will be refunded back to them in accordance with the festival's refund policy and subject to a refund processing fee. All leftover funds from credit card top-ups will be automatically refunded back to the guest's credit card, while debit card or cash top-ups will require the guest to apply for a simple refund form online in their user account.
"We've had the privilege of partnering with the best live events and festivals across so many industries, and we are confident that the deployment of our cashless technology will further distinguish Taste of Atlanta as the city's most coveted culinary tradition," said Eric Janssen, Chief Revenue Officer of Intellitix. "Taste of Atlanta festivalgoers will benefit from a totally streamlined and enhanced experience with our RFID solutions. Making speedy purchases for food, drink and merchandise with a simple tap of their RFID wristbands enable guests to spend more time enjoying all the mouth-watering festivities and less time standing in line."
In addition to increasing efficiency at the festival, these RFID wristbands also enhance engagement for attendees and their favorite participating Taste of Atlanta restaurants. Registered attendees will receive an email notification of all the samples they've tasted from over 90 onsite eateries. The patron's transaction history can also be accessed on their online account page.
"Our ultimate mission is to turn tasters into diners, and this RFID wristband technology takes that mission to the next level," said DeSena. "With digital records of every bite they sampled throughout the festival, our guests can remember which restaurants they liked best and which ones they want to try again."
Taste of Atlanta will once again donate a portion of the proceeds to 'Share Our Strength's Cooking Matters' Atlanta project, a cooking-based program that provides a strong foundation in nutrition, cooking, and household budgeting through specialised courses for adults, kids, and teens.
For more information about Taste of Atlanta's new cashless payment technology, please click here.
Header photo credit: Joseph Y. Wong