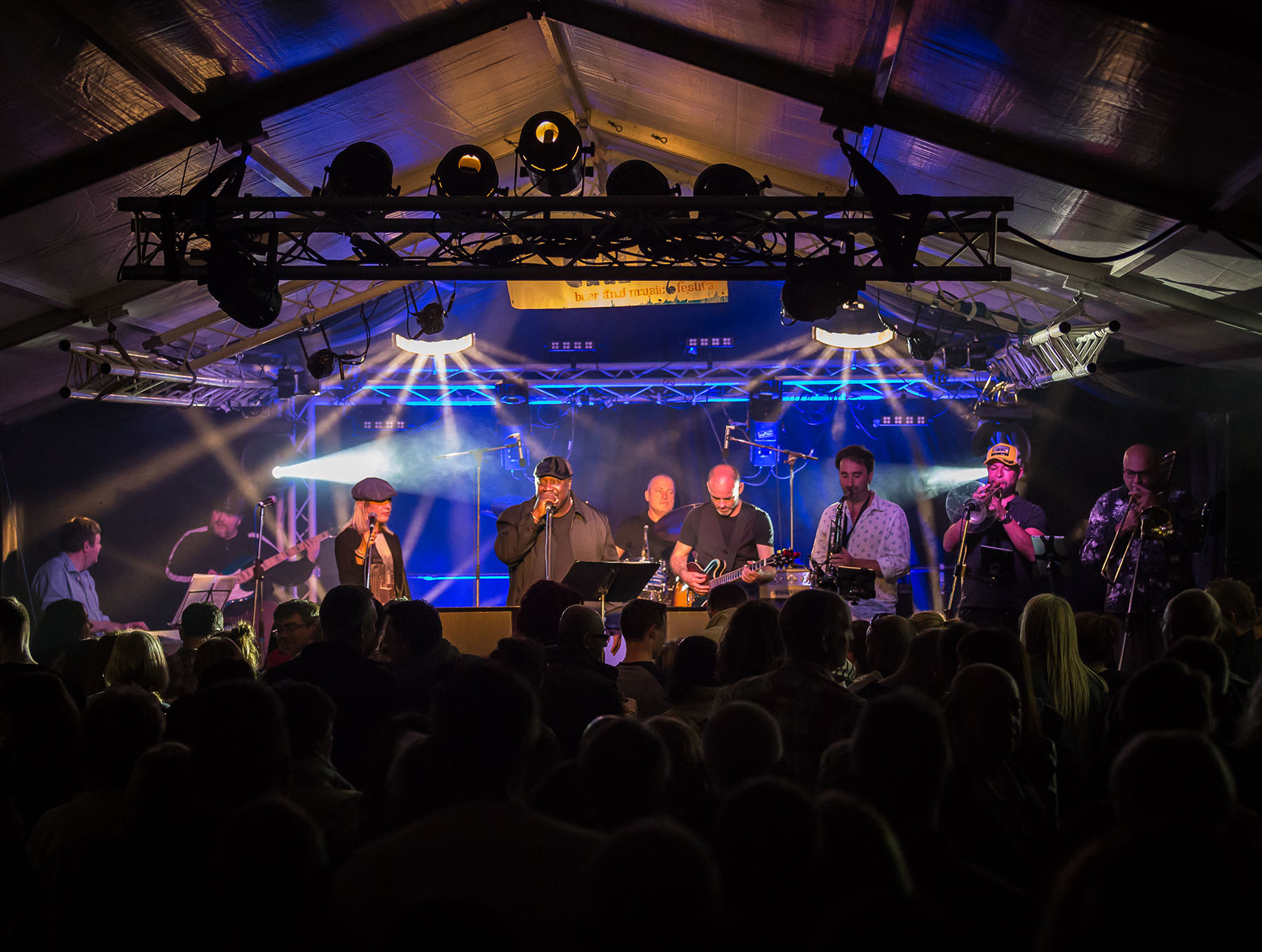 UK: The new Zero 88 FLX lighting console by Eaton made a massive difference to the power and control that lighting designer Guy Thatcher had at his fingertips on the main stage at the 2015 Tilfest event – a popular annual real ale and music festival staged in a marquee in the grounds of the White Horse pub in Tilbrook, Cambridgeshire.
Technical production – including all lighting and sound – for Tilfest 2015 was provided by Phantom Power headed by Clive Nicholes, a Cambridgeshire-based rental and production company supplying festivals, live events, dance and theatre shows.
The FLX console is a new purchase by Phantom Power that was supplied via Impact Products in Northampton.
Thatcher first saw the FLX in action at a Zero 88 product information day – Phantom Power already owned a Zero 88 Solution console, which everyone liked, but when Thatcher received the FLX demo, it really stood out as a desk more suited to their needs.
Shortly after, Clive was persuaded to make the investment.
Clive stated: "The features and price of the FLX really appealed to us, and it's ideal for the range of work we cover, easy to programme and good for both busking and tightly cued shows".
The first show for Phantom Power's FLX was Tilfest – with 12 bands over three days on the main stag. It was a perfect proving ground for the small, straightforward and extremely versatile console launched as part of the Zero 88 range earlier this year.
The lighting design concept at Tilfest was to make the environment appear much larger than it actually was – a big look in an expedient space – so it was all about scale.
A variety of fixtures were utilised including 1K PARs rigged on the advanced bar with small LED spots for specials; side washes were provided by 150W LED battens and small LED moving heads, with an assortment of eye-candy from Robe 250E ATs, Lanta Orion Aspect LED washes, Clay Paky MiniScans and some classic Coemar Versatiles used for fan effects at the back.
Thatcher found patching the FLX quick and intuitive. He thinks ZerOS is a good, stable software that is constantly moving forward and giving the FLX further functionality. He programmed a huge variety of looks and scenes that were assigned to the 24 faders across 10 pages.
"I love the FLX mood boards, the colour picker features and the inbuilt touch screen," he commented. Phantom Power has also purchased an additional touch-screen for extra adaptability.
"It's a highly versatile and usable desk that is well made and great value for money," he said, adding that the after sales and technical support from Eaton's Zero 88 team has been "Brilliant – nothing has been too much trouble".
Thrilling the crowds at Tilfest this year were, Fillet-o-Soul (featuring members of the Jools Holland and Strictly Come Dancing Bands), The Vees, and Copperhead among others.
Thatcher started Tilfest eight years ago with Richard Blinks, landlord of the White Horse. The marquee-based event features the main stage plus a beer tent with a second stage and a full and lively line-up of live entertainment. It has become an extremely successful, well attended and respected sought-after event.