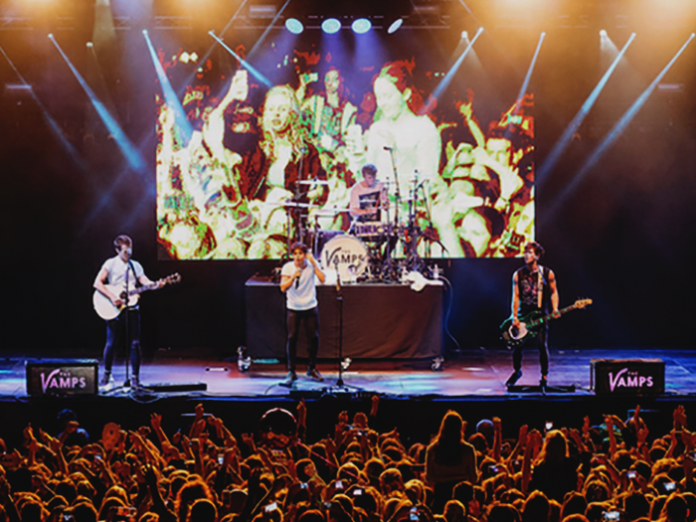 UK: Bristol-based lighting and visual specialists Fineline continued their busy summer / autumn event season by supplying lighting, LED screens and rigging to Boomerang Hickstead, a brand new two-day music event staged at the high profile All England Jumping Course and Showground at Hickstead, UK.
With a line-up including Jesse J, the Vamps, Soul II Soul, Simple Minds, the Proclaimers, and a host of other popular artists, Fineline worked closely with TAO Productions and event technical production manager Andy Cotton.
Fineline's Rob Sangwell commented: "It's always exciting to support and be part of a new event, and we did everything possible to meet headliner requirements and also ensure a great looking lightshow for the many other artists on the bill".
The stage was a 16 metre Supernova, supplied by Serious from which Fineline's crew sub-hung their trussing.
Guest lighting designer's Stephen Pollard and Vince Foster – from top-of-the-bill Simple Minds and Jesse J respectively – both had touring designs which the Fineline team matched as closely as possible, a plan which involved an intensive overnight re-rigging session.
Incorporated into the general production design for the event was a 'house' lighting scheme designed to work for all the other acts. "Flexibility was imperative here," commented Sangwell. "There was a wide range of music, and we tried to vary lighting and visuals as much as possible so everyone looked different".
Fineline's Stu England led their site crew of Tim Williams, Will Dale and Ben Desousa.
Upstage, space was needed for changeovers, so the depth of the overhead lighting had to be kept relatively expedient.
The back truss therefore facilitated a drape hung off the far upstage rail. A movable video truss (on motors) was rigged below it for the video wall which could be raised and lowered to get various band backline kit through and onto the stage below. On the same truss were two movable sub-hung lighting trusses, also on motors.
On the front rail, supporting band backdrops could be accommodated. Moving downstage from this were a mid and a front truss.
Lighting fixtures were all chosen for their light weight and multi-functionality, and included 20 Robe 600E Spots, 20 x LEDWash 600s, 16 x Pointes and 18 LEDBeam 100s for the moving lights, complimented by 8 bars of 6 PARs and six strings of ACLs.
Twelve ETC profiles on the front provided key lighting and specials, four 8-lite and eight 4-lite blinders facilitated some lively audience illumination, together with eight Atomic strobes.
House lighting control was an Avolites Sapphire Touch, dimming was also all-Avo and atmospherics and distro were included in the overall Fineline package.
The LED screen supplied was Lighthouse R7, configured in a 5 metre wide by 3 metre high upstage section, a production element that remained the same on both nights. It was used for IMAG images from three Sony PMW-500 cameras also supplied by Fineline, together with a Blackmagic ATEM 1 M/E 4K Production Studio. The cameras were positioned one at FOH with a long lens, one in the pit on track-and-dolly and a hand-held onstage.
Boomerang Hickstead is one of many festival-style events for Fineline, alongside Love Saves The Day, Somersault, The Eden Sessions and Glastonbury.