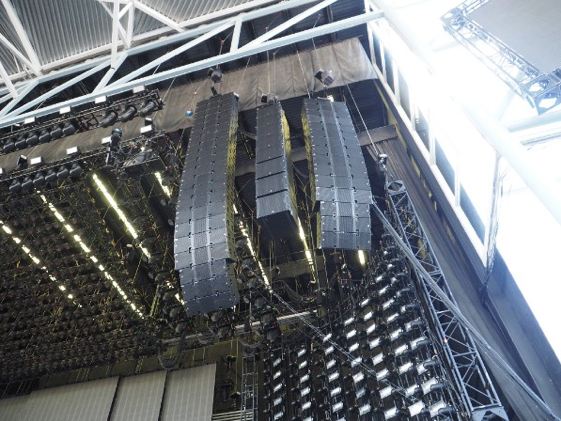 CANADA: More than 35,000 people descended upon the Molson Canadian Amphitheatre in Toronto recently to experience OVO (October's Very Own) Fest. Eighth Day Sound, headquartered in Highland Heights, Ohio, was on hand to deploy an Adamson sound reinforcement system for the event.
The three-day music event headlined Kevin Hart, J. Cole, Big Sean, YG + Jeremih and Drake with guest performances from Future, Pharrell Williams, UK's MC Skepta, Kanye West, and Krept & Konan. OVO Fest is one of the largest hip-hop festivals in Canada.
The main PA consisted of left-right hangs made up of 18 Adamson E15 and three Adamson E12 line array enclosures, with sidefill arrays made up of 12 E15 and three E12 enclosures. Two subwoofer arrays – eight Adamson E119s each – were hung next to the main PA. Another 24 E119 were stacked 2×6 per side to deliver Drake's signature low end.
"The high end of this PA is one of the clearest, and smoothest I have ever heard – not harsh at all and extremely consistent," explained Demetrius Moore, FOH engineer for Drake. "The low end is huge with a smooth range, great for my hip-hop 808s and my R&B kick drum."
The Molson Canadian Amphitheatre is a bowl-shaped outdoor shed with a seating capacity of 16,000 – 5,500 reserved seats under the 60-foot high covered roof, 3,500 seats under the open sky and another 7,000 seats on the grass bowl. In order to ensure pristine coverage, Eighth Day Sound utilised Adamson's Blueprint AV software to design the system.
"The PA was solid – we didn't need delays at all," added Moore. "The sound was clean with a consistent SPL throughout the venue and it was plenty loud."
The OVO Fest PA was powered by racks of Lab.gruppen PLM 20K44 amplifiers which combine a true 4-in, 4-out configuration with a new Lake core module, Dante networked signal distribution, and system control and monitoring. The amplifiers were rack mounted and located stage left during the event.