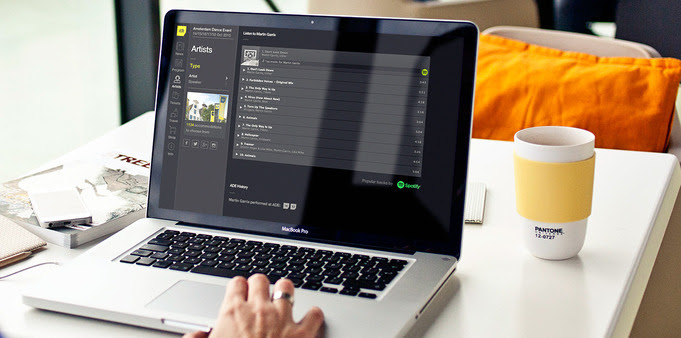 NETHERLANDS: From October 14 – 18, the city of Amsterdam will only have one thing on its mind: Amsterdam Dance Event (ADE), the world's biggest electronic dance music event and conference. With 2200 artists performing at 350 events and 100 venues, ADE and Spotify have teamed up to launch a new integrated service that will give visitors to the festival the best of everything that ADE has to offer.
By analysing user's Spotify listening habits, the new functions will make it easier than ever for visitors to navigate through the festival's extensive programme, and can be accessed via the user's Spotify account, on desktop, mobile devices or the new ADE app.
The new ADE app is available for IOS and Android and offers a host of exciting new possibilities. The app will analyse users' listening history to provide information on when and where their favourite artists are playing during ADE, as well as suggestions for other parts of the programme based on user preferences.
The app also includes:
"The entire ADE Festival, Playground and Conference programme.
"A guide to every Festival, Playground and Conference location.
"Profiles of every artist and speaker in the ADE 2015 line-up.
"News updates, exclusive access to social media functions and tips on how to Celebrate Safe.
"Personalised playlists.
"A 'discover' function to explore the extensive ADE playlist.
"A 'recommend' function that helps users discover new artists during ADE.
"ADE 2015 Playlist.
In the run up to this year's festival, Spotify has compiled an official ADE 2015 playlist including exclusives from the world's biggest artists: Joris Voorn, Armin van Buuren, DJ Snake, Hardwell, Cazzette, Ferry Corsten, Snails, Pierce Fulton, Loco Dice, Sam Feldt, MAKJ, Arty, Gryffin, The Chainsmokers, Seven Lions, Thomas Gold and more. The playlist will be updated every day with new tracks and is available here.
"We are excited to collaborate with Spotify and to provide our audience a way to discover new talent and new music as well to provide the performing talents with an improved global platform," said ADE Director Richard Zijlma.
"Every year, thousands of passionate music fans descend on ADE to enjoy music from hundreds artists across the EDM world. Spotify can now help those music fans to navigate the huge range of experiences on offer, and to find both new and established artists that either they love now, or will discover this year through Spotify and ADE", said Nikki Lambert, Spotify's Marketing Director for Europe.