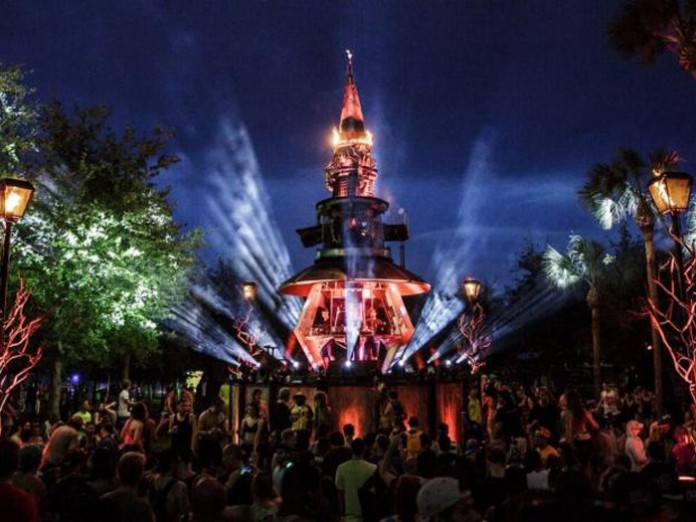 UK: Love Saves the Day has announced the line-up for the Arcadia Afterburner stage, in what will be the only appearance of the Arcadia Afterburner in the UK this year. The original Arcadia installation, the Afterburner is a 360 degree stage built around a central flaming spire with dance platforms radiating out to a ring of exploding lamp posts. Having appeared at festivals as far afield as New Zealand, Croatia and the United States, and a staple at Glastonbury, the Afterburner is returning home to Bristol this May.
On May 28, the Arcadia Afterburner stage will undergo a Full Cycle Takeover, headed up by the Full Cycle Records crew, comprising Bristol's very own Roni Size, DJ Krust and Dynamite MC. Legendary drum 'n' bass DJ and Producer High Contrast will also take to the Afterburner stage, alongside Dimension and London based drum 'n' bass trio Ivy Lab. Other artists to grace the 360 degree stage on May 28 include Bryan Gee b2b Jumpin Jack Frost, Sam Binga, D-Product, Sam Supplier and The Blast DJs.
On May 29, the Afterburner Stage will welcome a whole host of household names, including a DJ set from Chase and Status, Lobster Boy boss Redlight, and Goldie, who'll be presenting his 20 Years of Timeless classics. Who??Cares take over the stage on Sunday for an impressive showdown of Girls vs. Boys b2b sets. What's more, My Nu Leng will perform b2b with Flava D, Barely Legal b2b Dismantle, NYTA b2b Madam X, Gotsome will go b2b with a very special guest, plus Jamz Supernova b2b Jus Now, Kahn b2b Amy Becker and Safesoul b2b Komon.