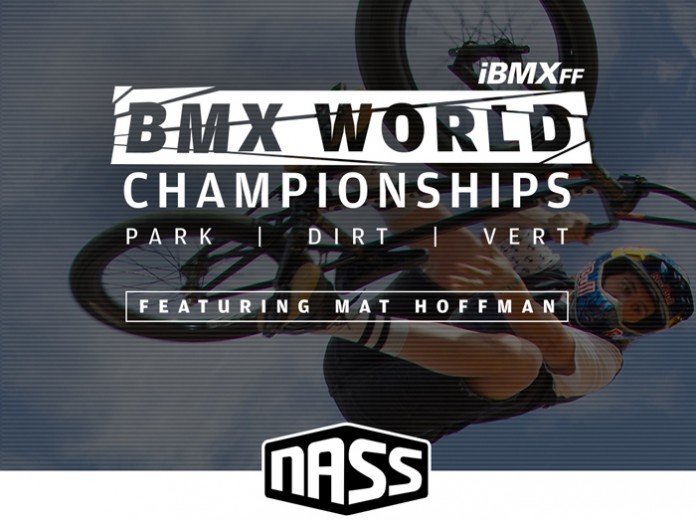 UK: NASS Festival and the International BMX Freestyle Federation (IBMXFF) have announced that they will co-host the 2016 BMX World Championships at the former event, which will be the first time the latter has occurred in the UK in 28 years.
The world's leading freestyle BMX athletes will descend on the West Country in time for NASS, the action sport and music festival, taking place from July 8 – 10 near Bristol.
The event promises to be one of the largest global BMX freestyle events of the year, with more than 450 professional and amateur athletes from over 40 countries heading to NASS to compete across three specialities of BMX freestyle: park, vert and dirt.
Leading athletes already confirmed for 2016 include: BMX legend Mat Hoffman, Australian superstar and three times NASS winner Logan Martin, X Games 2015 gold medallist Daniel Sandoval, Great Britain's top rider Alex Coleborn, seven times NASS Pro Park champion Mark Webb, five times X Games gold medal-winner Daniel Dhers, Simon Tabron, Coco Zurita, and Brandon Loupos.
As well as the BMX worlds, top pro skateboarders will compete over the weekend for their share of a prize purse totalling over £50,000 (the largest BMX and skate prize purse in the UK). The event will feature a 14ft Vert Ramp, a pro park, dirt jumps, street spots, public courses and ramps.
Inspired by the individuality and creativity of alternative youth culture, 15,000 music & action sport fans will make their way to the Bath & West Showground for a weekend of action sports, live music and hardcore revelry.
Mat Hoffman, chairman of the IBMXFF and BMX legend, said: "It's been almost 28 years but our 'Worlds' are returning to English soil with a bang. I was there in 1988 and I'll be there again, high-fiving the progression and rocking the love. We are going to see the best riding, inspired by the best music. This is the event to plan your year around. See you there!"
Richie Inskip, Brand Manager of NASS added: "We are stoked that NASS has been chosen to host the BMX world championships. For the first time in 28 years, the biggest event in the BMX freestyle community is returning to the UK. Successfully obtaining international sanctioning of our BMX contest is a testament to the progressive level of performance our athletes demonstrate year on year. Together with the other actions sports we represent, the BMX Worlds really cement NASS as a massive force within the industry and one of the top action sport festivals in the world."
To get involved in the competition, athletes must register their interest early as there are limited spaces in both the professional and amateur divisions, which will be filled on a first come, first serve basis.
American alternative hip-hop group Jurassic 5 will headline the main stage in 2016, joining headliners drum 'n' bass forefather Andy C, and Australian EDM duo Knife Party.