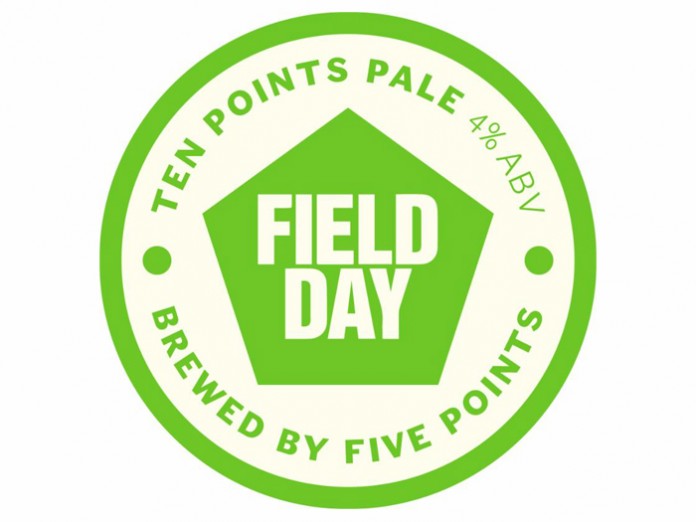 UK: Field Day and The Five Points Brewing Co have announced the collaborative Ten Points beer, a festival exclusive to be launched just before Field Day's 10th Birthday. The 'extra pale ale' uses British malts and American & Australian hops, creating a juicy, tropical and full bodied alcohol beverage.
Field Day's Ten Points will be available around East London in the likes of the MOTH Club, Shacklewell Arms, Adam & Eve, Three Crowns andChesham Arms, Dundee arms, Sebright arms, Crate, Clapton Craft and many others in the run up to the event and at Field Day.
Ed Mason, Founder of The Five Points, said: "We wanted to brew something a bit special in honour of Field Day's Tenth Birthday. Pale Ale is a really popular style right now, and we've taken that to the next level with an ultra pale colour and an extra juicy hop quotient, but we haven't gone crazy with the ABV. This will be an easy drinking extra pale ale but full of flavour which we have named Field Day Ten Points."
"As a proudly independent East London brewery, it feels a natural fit to work with East London's independent music festival of choice, Field Day, for their 10th anniversary. This is an exciting collaboration that will produce the perfect beer to enjoy in both beer gardens, and the glorious surroundings of Victoria Park while seeing your favourite bands and DJs."
Aside from the exceptional music programme and bespoke beer, Field Day will host eating competitions, plus a bunch of food stalls courtesy of Street Feast and Venn Street Market.