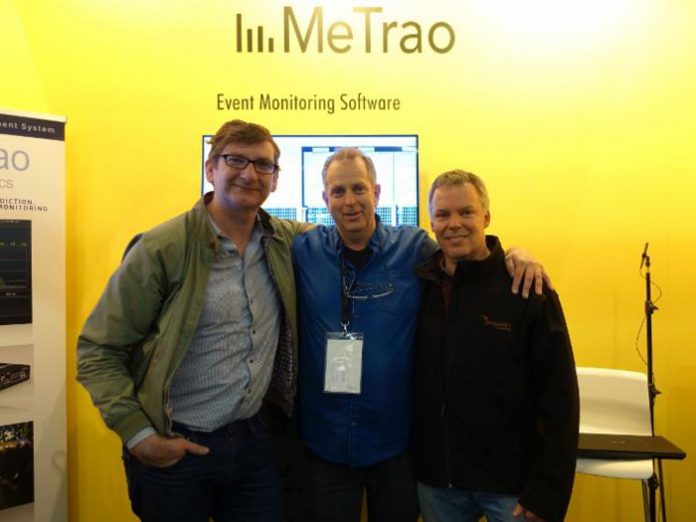 UK: Acoustic and audio specialist Event Acoustics has appointed leading independent audio engineering and design consultancy Vanguardia as its UK distributor for MeTrao, the company's unique intelligent network audio measurement system.
Event Acoustics has also assigned Istanbul-based ELIT the sole rights for Turkey, whilst audio visual design and distribution specialist ZAP S.A will cover Switzerland, with a headquarters in Geneva and branches in Lausanne and Winterthur.
To further boost the UK venture, Vanguardia has recruited well-respected sound engineer Roly Oliver as head of live business, with a focus on the distribution of MeTrao to rental companies, consultants and temporary and permanent installations.
Oliver commented: "From my experience, as both sound engineer and sound supplier, one of the most frustrating things has been wanting to have real time information about the actual impact of our stage on the perimeter levels.
"MeTrao finally gives us that, including trackable third octave analysis of the problem frequencies and even filtering out crowd noise. This allows for a much more relaxed approach to staying within the licensing limits of the event, but still delivering maximum enjoyment to the paying audience. Promoters, sound engineers and ultimately audiences are going to love this device. I cannot wait to introduce it to people over this summer."
MeTrao provides audio professionals and event organisers with a quick and easy way to measure and observe the increasingly strict sound level regulations of live event environments, whilst boosting the quality of the audio output.
The system offers a unique feature of diagnosing offsite which sound system at a multi-stage event is reaching a risky level. It also establishes the problematic frequency so that adjustments can be made. This allows engineers and event managers to avoid breaching regulations by meeting critical offsite limits.
"We are confident MeTrao is going to add a fantastic new aspect to our business," said ZAP's Flavio Rüdy. "The system is a totally new approach, making it possible to distinguish between audience noise and the PA sound itself. It can even be used to measure wind and vibrations. This innovative technology is then combined with robust and professional hardware and an easy-to-use software interface with a convenient cloud infrastructure. We are also looking forward to working closely with Event Acoustics; the team has a focused and professional approach and a great will to keep developing the system. This future-proofing is a very important factor for us."
Event Acoustics' Peter van der Geer, an expert in audio and noise management, isolation and acoustics, added: "We are delighted with our new European partnerships. Vanguardia, ELIT and ZAP S.A are all companies with unparalleled reputations for both technical expertise and customer service, making them the ideal fit to launch MeTrao to their respective markets."
"MeTrao has been designed according to the highest global standards and therefore deserves a respected, industry-leading distribution network," said Marcel Albers, Director of Global Sales at Event Acoustics. "We are confident it is going to take Europe and the UK by storm."
Vanguardia launched MeTrao's distribution on May 1 2016, with ELIT and ZAP set to follow suit at the end of the month.