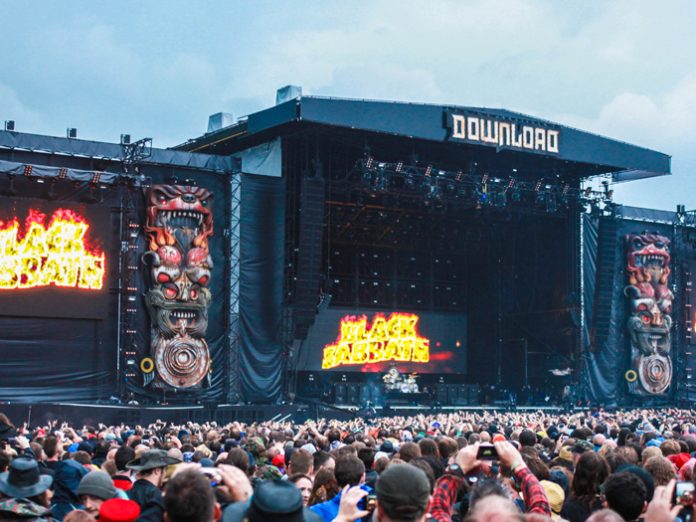 UK: Over 100 bands performed on Serious Stages in front of 80,000 rock fans from June 10 – 12, as Serious supplied staging and ancillary structures to Download Festival for the first time.
The 13th Download Festival boasted headline performances from Rammstein, Black Sabbath and Iron Maiden, with Serious providing the stages to house rock royalty and structures to house their production equipment.
A Serious-designed and manufactured 25m x 30m Tower Roof was the main stage, which was renamed 'The Lemmy Stage' in memory of the late Motörhead front man Lemmy Kilmister. Complete with a 6.2m cantilever giving great audience sightlines from all angles, this 20m high six post TZ roof accommodated the large weight loading capacities required for the technical production equipment, with plenty of working area for band changeovers and incorporated raised VIP viewing platforms.
Serious Stages also installed two flanking 9.6m x 14.4m goalposts to hang screens and PA, along with three 15m lunar delay towers, ramps, steps, camera runs and camera platforms within the main stage area. For the main stage front-of-house structures, Serious installed a 7.2m x 7.2m clear span which housed the sound consoles and engineers, and a 4.8m x 4.8m tower, decked at 4.5m and 9m, to accommodate the lighting engineers along with an assisted viewing platform.
Serious Stages also installed the stage deck, PA wings and front of house structures for The Maverick Stage and The Dogtooth Stage.
Serious Stages' Managing Director Steven Corfield said: "We are delighted to have extended our relationship with the Festival Republic production team at this, our first year supplying staging to Download Festival. Our Tower Stages looked fabulous, accommodating many of the biggest names in rock and metal. By designing and building a custom 24m Tower Roof for the aptly named "Lemmy Stage", we were able to create an impressive spectacle; it was a fitting tribute to the late rock legend, who was due to perform at this year's event.
"We also supplied ancillary structures, front-of-house structures, assisted viewing platforms and stage decking, which our team installed to the highest standard. Our roof cantilevers on the main stage and second stage not only created great views for the audience, but also offered increased weather protection for the artists and their equipment against the torrential rain showers that hit the festival."