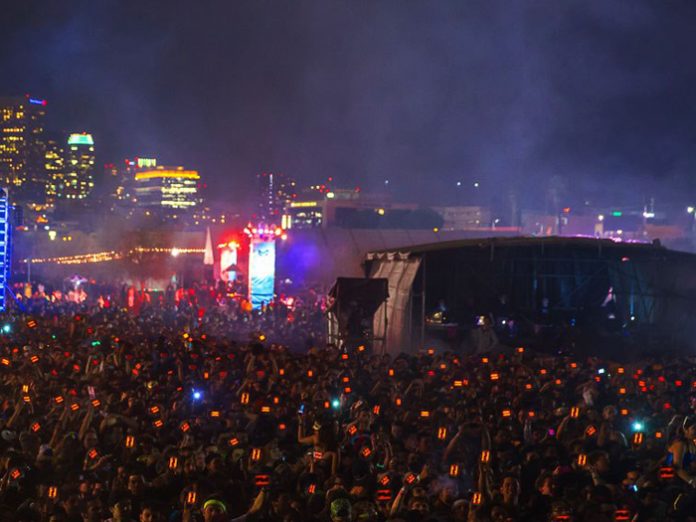 USA: The Material Group has signed a partnership deal with US-based tech start up LISNR to drive the growth of the business in the UK and Europe. LISNR, which won a Gold Lion for Innovation in Mobile at Cannes last year, offers technology that can turn any speaker, from a stadium PA system to a TV, into a beacon that can trigger second-screen experiences on any device.
Material, which has worked on high-profile live sporting and music events from London 2012 Olympics to T in the Park, will team up with LISNR to transform how brands and rights holders communicate with their audience using LISNR's unique manipulation of sound waves to create a one-of-a-kind, interactive fan experiences.
Unlike Bluetooth, iBeacons and NFC, LISNR is not dependent on hardware or connectivity, meaning that wherever sound can be played, connections can be made – providing the world's first and only data-over-audio solution.
The technology has already been adopted in the US by NFL teams to enhance football fans' experiences and by Budweiser to connect with music fans at the Made in America festival.
LISNR, a two-time CNBC Top 50 Global Disruptors company, has also recently worked with AEG, the organiser of this year's Grammy Awards, to deliver unique interactive fan experiences during the biggest night in the international music calendar.
Through these partnerships, LISNR has been able to provide real-time information, proximity-based marketing messages and context-driven promotional offers to fans, despite the limited connectivity that is common at large festivals, concert and sporting venues.
Material, which works with clients including Becks, Lloyds Banking Group, William Hill and Magners, introduced the technology to client SSE earlier this year.
The utilities company, which owns the naming rights to The SSE Hydro in Glasgow and The SSE Arena Wembley, became the first brand to work with LISNR in the UK. SSE and Material delivered bespoke personalised content and experiences to the audience at The Who's recent performance at The SSE Hydro with LISNR technology.
The new relationship will see Material work closely with LISNR to develop new firsts in the live event space as they develop the brand partnership proposition in the UK and Europe.
Rodney Williams, LISNR CEO, said: "LISNR was built on the idea that sound, the original medium for communication, can do more in today's digital world. We are solving connection problems for brands, event organisers, and content creators by using the infrastructure that is already around us to drive meaningful, relevant experiences. Our partnership with Material Group signals to us another great 'connection', a strategic relationship that will enable all of us to elevate the live event experience in the UK and Europe."
Gillian McCormack, Managing Director, Material, said: "Working in sport and entertainment for over a decade, we have always been struck by just how difficult it is to connect with consumers in meaningful way at live events. There are so many issues such as limited Wi-Fi or poor infrastructure in in both indoor and outdoor venues that make facilitating real-time magical moments for consumers near impossible for brands or rights holders.
"LISNR will revolutionise opportunities for brands and rights holders operating in the live event space. Having brought the technology to SSE, we have seen first hand what it can deliver for the brand, the audience and the talent. We're excited to see where we can go together next."
Cannes Lions 2015: Lisnr, Lisnr (R/GA New York) from MediaCat TV on Vimeo.