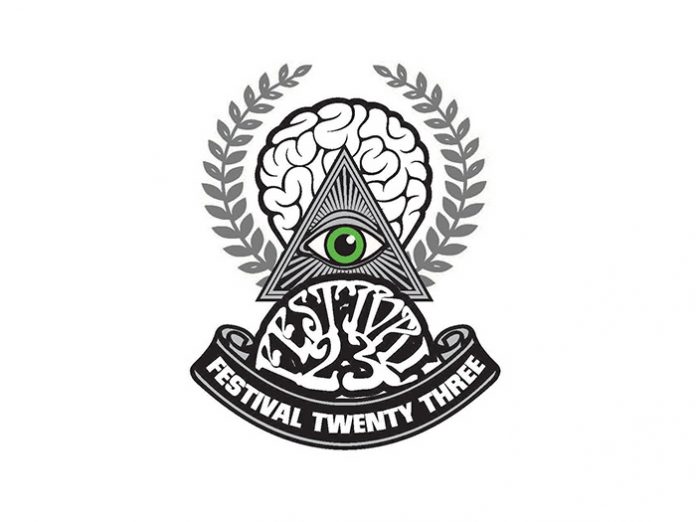 UK: Festival 23, a brand new outdoor festival celebrating Discordian counter­culture and positive activism, will launch from July 22 – ­24 at a secret South Yorkshire location. The programme includes a conspiracy-off, art installations, zen philosopher puppet shows, discos from outer space, games and cosmic rituals, as well as a multitude of secret happenings.
Artists confirmed so far include Jimmy Cauty, John Higgs, Alan Moore, Knifeworld, Super Weird Substance, Richard Norris, Cosmic Trigger Cabaret. Festival 23 is a celebration and exploration of contemporary counterculture, inspired by generations of radical artists and writers, from William Burroughs to Alan Moore, Alan Watts to Robert Anton Wilson. The focus for these energies is Discordianism: a joke disguised as a religion, or a religion disguised as a joke – founded in the early '60s and invented to bend, reveal, and redesign reality.
The movement was most famously popularised by Bob Shea & Robert Anton Wilson's 'Illuminatus!', the cult novel series ­itself adapted into an infamous nine hour play in 1976 by director, actor, and maverick Ken Campbell.
Discordian enthusiasts will be thrilled to know that many programmed events at Festival 23 have threads back to the original movement. In 2014, Ken Campbell's daughter Daisy Campbell brought Robert Anton Wilson's 'Illuminatus' sequel ­ 'Cosmic Trigger' ­ to the stage, acting as a powerful catalyst for the current Discordian revival. Daisy will be leading Cosmic Trigger's cast and crew, including poet Salena Godden, in a cosmic cabaret that will take over Festival 23's main stage on the Sunday night.
As a member of the KLF, Jimmy Cauty re­introduced Discordian ideas to a new generation in the late eighties and early nineties. He'll be bringing his acclaimed art installation, The Aftermath Dislocation Principle (ADP), to Festival 23.
Writer John Higgs has also brought Discordian­ related ideas to a wider audience with his books 'The KLF: Chaos, Magic And The Band Who Burned A Million Pounds' and 'Stranger Than We Can Imagine: Making Sense Of The 21st Century'. At Festival 23, John will be delivering a new talk entitled 'Ziggy Blackstar and the Art of Becoming'.
The headline musical acts are bunch chosen for their Discordian leanings, cult following or DIY backgrounds and include psychedelic / progressive titan Knifeworld, Super Weird Substance (featuring legendary DJ Greg Wilson and Ruthless Rap Assassins / Black Grape member Kermit, who will also be performing separately), Richard Norris (The Grid, Circle Sky, Beyond the Wizard's Sleeve, Time and Space Machine, Psychic TV), Pete Woosh (DIY), AOS3 and Cowtown.