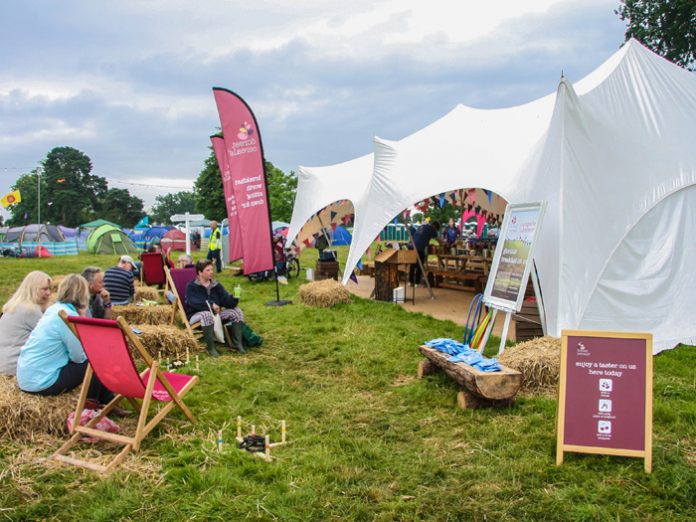 UK: Festivalgoers at this year's Cornbury Music Festival benefitted from The Dorset Cereals Campsite Takeover, as Circle Agency helped spread the joy of breakfast to campers from July 8 – 10.
Taking place at The Great Tew Estate, Oxfordshire, Cornbury Music Festival welcomed 20,000 music lovers each day, and boasted performances from Jamie Cullum, Bryan Ferry, All Saints and James Morrison.
Dorset Cereals called upon experiential marketing expert, Circle Agency, to help surprise and delight festival campers with a fun and engaging campsite takeover. To kick off this activation, Circle Agency offered a 'helping hands' service as people arrive onsite, with a team of 10 hand-picked brand ambassadors assisting campers with tent set-ups and carrying their belongings from their cars to the festival site.
Offering something different to the classic sampling stand, a Dorset Cereals breakfast extravaganza was hosted within the campsite, complete with long banqueting tables lined with the perfect festival breakfast of Dorset Cereals, yoghurt, milk and juices. Campers were invited to sit at the table and enjoy a free breakfast with their fellow festivalgoers, with Dorset Cereals brand ambassadors on hand to answer any questions.
Circle Agency also ran morning activities within the campsite, including yoga, kids morning wake up sessions and face painting. In order to maximise brand engagement with parents and children, a games area was created, where families could play at any time of day. Treasure hunts were also set up around the campsite, offering children the opportunity to take part in engaging activities and interact with others.
Claire Stokes, founder and Managing Director at Circle Agency, said: "Following on from the success of Dorset's breakfast bag drops at last year's Cornbury Festival, we wanted to further enrich the experience available at the festival. Cornbury provides an excellent audience profile for us and the camp site allows the dwell time required to really enrich the campers experience with the brand. I can't tell you how grateful the campers were, as they arrived to an army of Dorset brand ambassadors willing to help carry their tents and luggage to their campsite pitch. It really was a joy to watch.
"Education of the product range available was obviously paramount, and while hungry campers were keen to join us for our breakfast banquets, it was the sense of community that made the activation really special. Everyone coming together and reminiscing about the day before, it felt like a big farmhouse kitchen and one very large family- which was exactly as we wanted it. We also wanted to extend the experience beyond sampling. Campers were able to attend our yoga sessions, participate in our kids wake up activities, or hang out with family and friends in our outdoor games area – the Dorset cereals brand is all about the joy of breakfast, and starting your day off on the right foot. I think we conveyed that and without question, earned brand love in the process."
The Dorset Cereals Campsite Takeover enabled the brand to capture precious moments with campers before the festival began, and encouraged attendees to make the most of their mornings. To ensure festivalgoers were kept up to date with all the Dorset Cereals action, campers were rewarded with a Dorset Cereals laminate which they could attach to their festival lanyard.