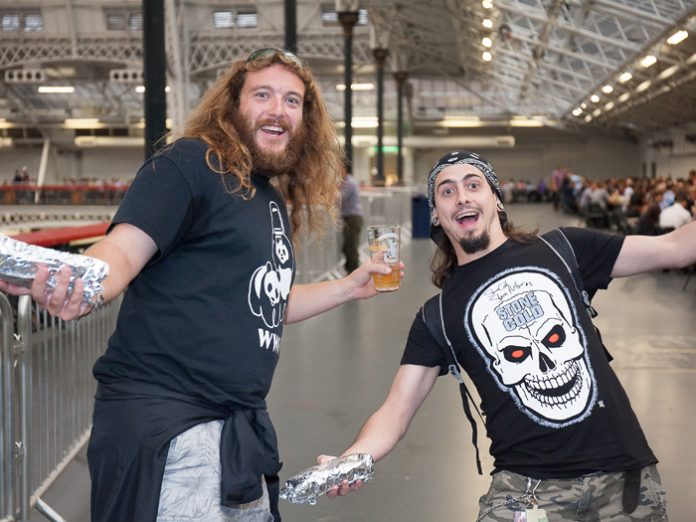 UK: This year's Great British Beer Festival (GBBF) will return to Olympia London from August 9 – 13, with everything from limited edition brews and one-off specials to award-winning favourites from microbreweries across the UK and even an American cask beer bar unique to the festival.
With more than 900 real ales, ciders, perries and international beers, there's something for everybody. Many of Britain's most recognisable breweries will run their own bars at the event, including Charles Wells, Fuller's, St Austell and Wadworth. More than 350 breweries are represented on the CAMRA bars, including those in the Champion Beer of Britain competition.
Beers from Belgium, Germany, Italy and beyond will also be available.
Two real cider and perry bars will be bursting with drinks full of the fresh fruit flavours of apples and pears. There are special bars for some of the best known names in British brewing, including the new London Real Ale in a Bottle Bar, with many featuring beers exclusively for festivalgoers.
Click here to see a sample of what the festival will have on its bars.
The festival experience will include traditional pub snacks and games, and an array of food vendors such as the Crusty Pie Company, Pipers Crisps and Truckle Cheese.
If you're looking for a little enlightenment, there are tutored tastings where as well as sampling a selection of beers, you can gain an insight into the diverse world of real ale and cider. Authors of CAMRA books will be there too, to sign copies of their book at special GBBF prices.
Accompanying the vast range of real ale, cider, perry and beers will be music and entertainment on the festival stage. Rock, pop and alternative bands appear alongside auctions, traditional pub games and Saturday's Big Pub Quiz.
There are alternative activities for the whole family as well, such as the fully equipped family area to keep the children busy throughout the festival so they don't feel left out.