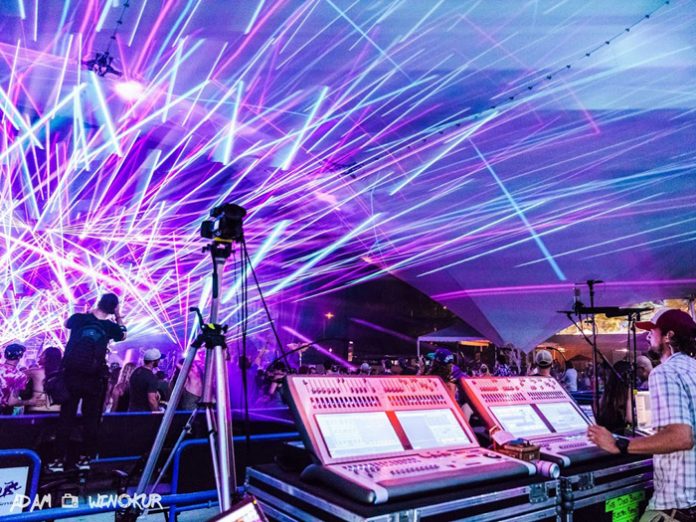 USA: The curved overhang of the Camp Disco's pavilion tent served as a visual canvas for an explosion of lighting effects, lasers, video and media server content at this year's festival. The swirling colours, cones of light and constantly moving content were owed to the choice of fixtures as much as they were to the chosen lighting control system: Avolites' Sapphire Touch.
Camp Bisco is an annual outdoor music festival created and curated by the jamtronica group Disco Biscuits since 1999. This year's event, which ran from July 14 – 16 in Scranton, PA, celebrated all things electronic, including music from its founders as well as groups like Lotus, Big Grizmatik and others.
Denver based production company DSI Event Group provided the entire festival lighting, video and audio for two stages, with the bulk of the gear centred around the main stage, Electric City. This stage featured the festival's founding band headlining nightly, accompanied by lighting, lasers, a media server, and two Avolites Sapphire Touch consoles.
The Disco Biscuits' lighting designer, Johnny R. Goode III, who is also DSI's operations manager, has been the group's LD for 15 years, designing their touring lighting as well as equipping Camp Bisco's gear-wise through DSI.
Goode chose two Avolites Sapphire Touch consoles running v9.1 software because Avo consoles are simply his 'go to' consoles. As an Avo programmer for 15 years, the LD appreciates the familiarity of the syntax and operation of the console. "Over the years Avolites has stayed current and competitive with software and features," said Goode. "I have always felt comfortable with the language and terms they use."
Having used the Sapphire Touch console for four years now, Goode chose a pair for the main stage in multi-user backup mode because it allows him "to have a backup and twice the control surface."
Goode's favourite features are the ease of the programming effects — in particular the Pixel Mapper and the Key Frame Generator.
Features that helped him at Camp Bisco are the multi-user feature and the ease of networking, along with the Pixel Mapper, regarding programming the Clay Paky B-Eye K20s. "Creating effects for these types of multi-instance fixtures is quick and very user-friendly through the graphic interface. The ability to draw shapes and see instant results is key to quickly creating effects with these lights."
Goode's rig of lighting fixtures — along with the 18 B-Eye K20s — included 12 Elation CUEPIX Blinder WW2, 7 Elation CUEPIX Blinder WW4, 18 Elation Platinum Beam 5R Extreme, 12 Martin MAC Aura, 24 Robe Robin BMFL Spot and 12 Showline SL Nitro 510. Goode controlled all of that, including the lasers (from Lightwave Research), Christie HD projectors and a media server, via the pair of Sapphire Touches.
He finds Avo consoles to be the most user-friendly console platform out there, allowing him and other bands' LDs to create their shows and run them within tight time limits. "Whenever we have a guest LD come in and use my console for their set, they are always complimentary of the ease of use that the console has.
"The Avo console is hands-down the best tool for the job for intense festival situations like Camp Bisco. This is mainly because of the ability to use the console live and build quick effects that on other consoles would be way more time consuming. But at the same time, Avo has the depth of programming other consoles have, if you have the time to put into it. This is what makes the Avo platform the best, in my opinion. There is no sacrifice between quick and deep programming; it's all possible."