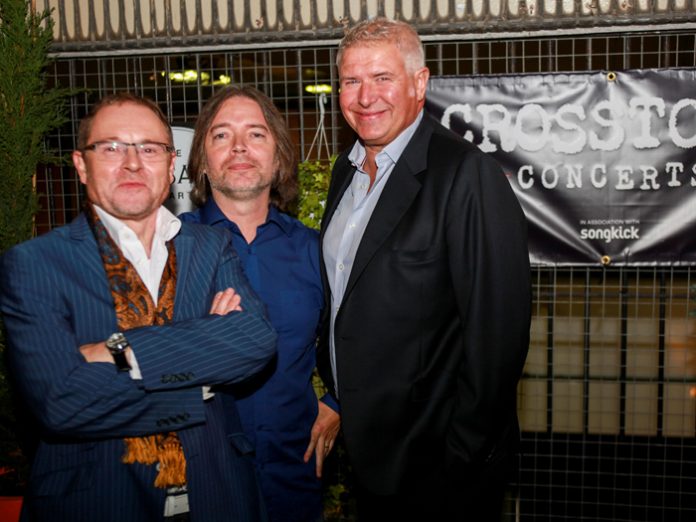 UK: Crosstown Concerts hit the ground running on September 3 with a sell-out, 30,000 capacity Massive Attack homecoming show on the Bristol Downs. This new concert promotions company and record label is a joint venture LLP between long established promoters Paul Hutton, Conal Dodds, and Fraser Duffin, combining decades of music industry and business experience.
Partner Paul Hutton said: "First and foremost we are music fans, we are in this to promote quality concerts and events, and at the core of our business is working with artists from the beginning of their careers. The most important people to us are the general public, they pay our salaries by purchasing concert tickets, and for too long they have not been treated with the respect they deserve. One of the key areas we will be tackling is secondary ticketing, which has a huge negative impact on the UK live music scene. We are committed to tackling the problems surrounding the resale of tickets and providing fans with better than ever live experiences."
Part of this initiative sees Crosstown Concerts announce a partnership with leading independent ticketing and concert discovery platform Songkick as its primary ticketing and technology partner across all Crosstown events.
Partner Conal Dodds said: "Ultimately our priority is to promote great artists and give people memorable life experiences. We and Songkick are committed to doing our utmost to prevent the reselling of tickets for profit on secondary ticketing sites. We're going to be bold and committed in our approach, and are looking forward to creating many unique moments for artists and their fans."
Crosstown has already been busy setting up London and Bristol offices, from which it has lined up shows at clubs and arenas across the UK with acts such as Pixies, Kano, Seasick Steve, M83, PJ Harvey, Super Furry Animals, Savages, Explosions in the Sky, Billy Talent, and a whole host of exciting new artists.