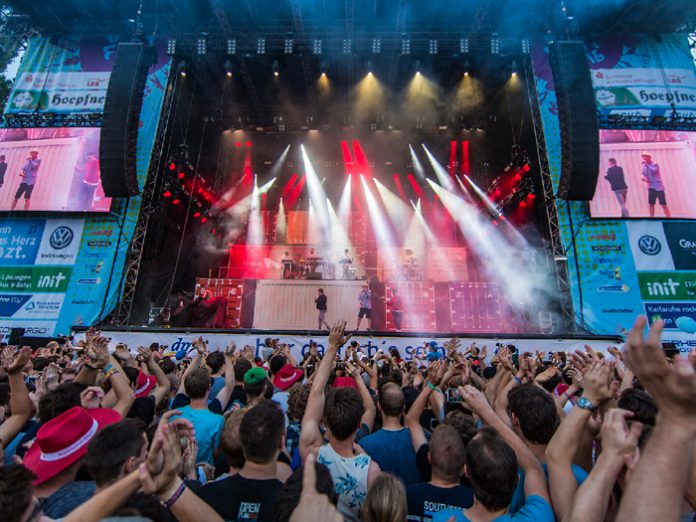 GERMANY: Taking place in Karlsruhe at the end of July, Das Fest is one of the largest open-air events in Germany with more than 250,000 visitors.
Since 1985, renowned artists such as The BossHoss, Silbermond and Die Fantastischen Vier have performed on the 'Mount Klotz' site. This year, musicians and bands such as Rea Garvey, Moop Mama, Wanda, Max Giesinger, Milky Chance and Fettes Brot helped set the music festival alight.
Karlsruhe based company Crystal Sound was responsible for the technical equipment on the main stage. The service provider covered all areas of the event's technology and added GLP's GT-1 and impression X4 L to the main stage inventory this year.
In total 34 GT-1 and 48 X4 L were used in the set up — deployed as backlights on the main stage and to provide stage colour. Mark Metz, Crystal Sound's project manager, commented: "We were looking for lamps that would deliver a constant backlight and were also flexible, reliable and used modern technology. We know we can always rely on GLP."
Unlike other major German festivals the organisers of Das Fest aim to address all segments of the population, regardless of age and income, by offering a colourful and varied family programme for music lovers.
This philosophy allows punters to visit a variety of areas such as the culture stage, the DJ stage or participate to the 'Klassikfrühstück' (classical breakfast) on Sunday morning.
Even charities have the opportunity to benefit from an open audience and this year GLP proudly presented the Karlsruhe Foundation for Children with Cancer (Förderverein für krebskranke Kinder e.V. Karlsruhe Stelzenmännchen) with two large Airdomes to attract attention and serve as a focal point.