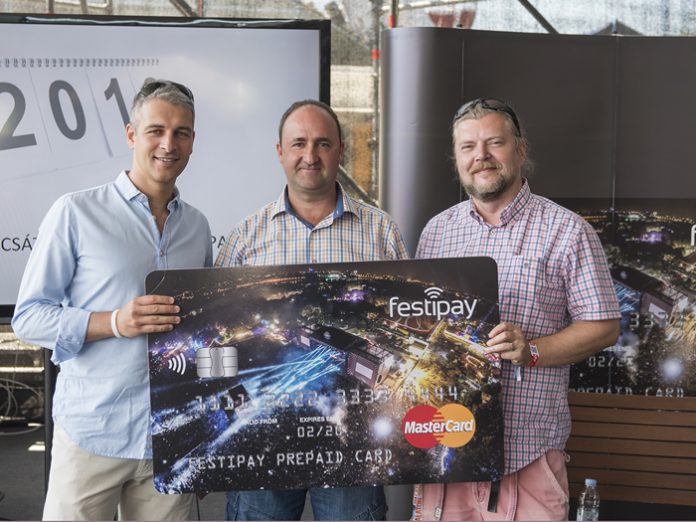 UK: Prepaid Financial Services, a UK e-money issuer and financial technology specialist, has announced the results of its prepaid solutions developed specifically for events and festivals.
Acting as the issuer and programme manager for Festipay, the largest cashless payment service provider to the Hungarian festival market, PFS launched an open-loop contactless prepaid MasterCard solution for Sziget Festival, contributing in more than three million cashless transactions being made. Festipay predicts that it will process more than seven million transactions by the end of this year's festival season; up 27% from 5.5 million in 2015.
Sziget introduced cashless payments via closed-loop festival cards in 2010, with reimbursements needing to be paid to attendees at the end of the festival. This year however, festivalgoers were also given the option to load cash onto an open-loop contactless prepaid MasterCard. The card continues to work outside of the festival and the remaining balance can be used anywhere that accepts MasterCard, for two years after the issue date. It can also be used for ATM withdrawals, and to make online payments.
The closed-loop version was also in operation for attendees who opted for a solution that worked exclusively within Sziget Festival, with any unspent funds being reimbursed after the festival ended.
Laszlo Marki, CEO of Festipay, said: "Being able to give festival attendees the choice of an open-loop product to be used during and after Sziget was a great way to introduce a prepaid solution to millennials in Hungary. For us, the solution is also great from a branding perspective, as the Festipay cards are valid for two years from their issue date.
"The popularity of open-loop cards meant that many attendees did not require reimbursement for unspent cash loaded onto the cards, but for those who were using the closed-loop product, the agile technology platform PFS provides significantly reduced the amount of time taken to process refunds. As 100% cashless festivals increase in popularity, having a robust and fast reimbursement system in place was a crucial factor for us."
PFS is now in the process of helping other festivals to roll out open-loop prepaid solutions to prevent issues with reimbursement after events have ended.
Noel Moran, CEO of Prepaid Financial Services, said: "The open-loop solution we provided at Sziget was a great success, and Festipay will continue to generate revenue from this programme long after the festival has ended. The introduction of open-loop cards coupled with the streamlined reimbursement process for unspent funds demonstrates how easily this could be rolled out to every festival or event anywhere in Europe without any friction.
"We're excited to see how prepaid financial products evolve in the next few years as cashless and contactless solutions become more prevalent in the events industry."
Football clubs and stadiums have also begun to embrace prepaid solutions. Match tickets can be pre-loaded onto cards to fast track cardholders through gates with a single tap – much like an Oyster Card, reducing queuing times. Once inside the stadium, refreshments can be paid for with a single tap, with loyalty points and benefits being linked to the card, giving fans a greater incentive to spend, while also increasing revenue for the club.
Merchants can also benefit from prepaid solutions being implemented at venues. As well as being able to trace all transactions, as they do not need to handle cash, the payment process is streamlined, allowing them to serve more customers and thus increasing their revenue. On average, attendees using prepaid cards will spend 10 – 30% more than those who pay using cash.
PFS has also demonstrated that the data collected from user transactions in close proximity to festival sites, events, and venues can provide valuable insight into partnerships and other marketing opportunities with local businesses and event sponsors.