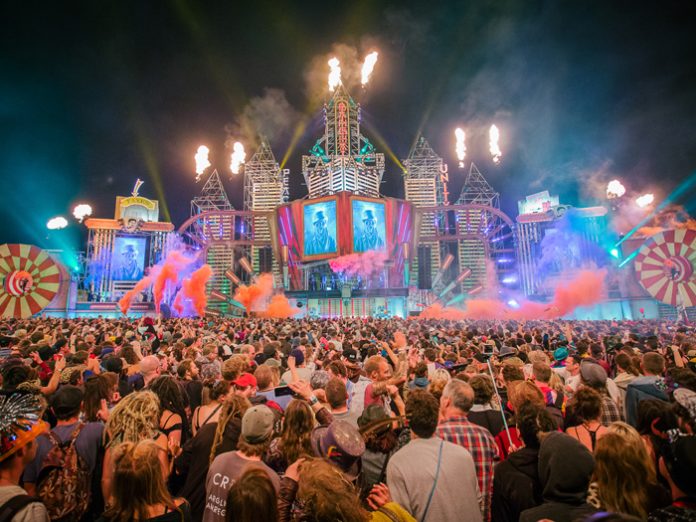 UK: This year's edition of Hampshire's largest festival, BoomTown Fair, raised £98,654, along with vital aid and awareness for numerous charities across the globe and closer to home. The 60,000 capacity theatrical and immersive festival also donated money to local communities, supported many local businesses and provided tickets for local residents.
Charity, education, and awareness, along with local engagement, are a large part of the ethos of BoomTown and the festival has many ways to raise money and aid including: £2 ticket donations, guest list donations, stewarding partnerships, onsite installations such as a hidden photo booth in the intricate set designs, chill out spaces where people can create their own 'Love Specs', a platform for awareness raising talks at the new Speakers' Corner talks tent and locally lead salvage operations.
The new Speakers' Corner welcomed a huge range of talks including a drug awareness message from Wendy Teasdil, the mother of Ellie Rowe; Maisie Williams discussing the growing refugee crisis and formal education; Jess Thom talking about living with Tourettes, as well as The White Ribbon Campaign launching their Safe Event Guide promoting awareness of sexual harassment and assault of women at events.
BoomTown matched guest list donations to create a substantial £10,000 to be split between the parishes bordering the festival site to invest in projects to benefit their communities. Hampshire Air Ambulance have also been gifted £7,255 through the ongoing stewarding partnership.
In the months leading up to the event the BoomTown KidzTown team held free family carnival workshops at the Discovery Centre for Winchester families alongside local charities Naomi House and Blue Apple theatre, where the children get to showcase their costumes and newly developed skills at the festivals' Sunday KidzTown carnival.
Local businesses supported by the festival include food traders: DD's Creperie, Bunnymans Bunnychow, Routes Coffee, Moomix, Wham Bam Tikka & Kwackers Duck Burgers and Happy Maki. The Hampshire based Market Traders made up 15% of the festival's market stall holders including: Devi Creations, Stinky Fish, Kathmandu & Diddly Do, Fab Vintage and The Fabulous Travelling Festique, plus eight bags of unclaimed clothing have been donated to Trinity Winchester.
£46,380 was raised for Oxfam through the stewarding partnership, with a further £15,000 raised through their district themed Oxfam Shop, located in Mayfair Avenue.
The multi-charity beneficiary stewarding organisation, My Cause accrued £5,165 for a range of UK based and international charities.
Help for Refugees
A group of local community volunteers from Twyford collected 160 sleeping bags, 85 tents, 58 roll mats, 13 self-inflating mats, 17 rugs & blankets, plus quantities of miscellaneous clothing, shoes & wellies, canned food, pots and pans, lamps, pumps and chairs – all of which were donated to L'Auberge des Migrants in the Calais Jungle.
Love Support Unite raised £2,410.
Help Refugees raised £500 through its festival wear stall, selling unsuitable clothes that had been donated to its warehouse in Calais.
Refugee Community Kitchen raised £280.
Festival Waste Reclamation and Distribution collected tents, sleeping bags, camping chairs, sleeping mats and clothes for Syria with the Portsmouth based 'Don't Hate, Donate' charity.
Global Causes
TEMWA ran the festival's onsite Lost and Found for which BoomTown donated £5,000 towards the charity, with a further £500 raised through grateful festivalgoers giving donations after being reunited with their belongings.
The build crew from the South American styled area, Barrio Loco, raised £1,640 for Alianza Arkana, a ground-breaking grassroots project working with indigenous communities in the Amazon in Peru whose way of life is under threat from increasing development and industrialisation.
Environmental Causes
72,000kg of CO2 emissions were accounted for through travel carbon offsetting ticket donations of £3,600 to Energy Revolution.
Boomtown teamed up with Love Your Tent to bring a new initiative for the festival this year, with the idea of giving cheap 'disposable' tents more sentimental value to encourage people to take responsibility for their belongings and take them home.
Lak Mitchell and Chris Rutherford, Directors of BoomTown, said: "It's a privilege to be a position to be able to support so many charities, locally and across the globe, the dramatic increase in funds raised that we can achieve in one year alone, is astounding. We look forward to the future and raising even more money, awareness and supplies for the now vital role many of these charities are fulfilling."
BoomTown Chapter 9: 'Behind the Mask' will return to the Matterley Estate in the South Downs National Park from August 10 – 13 2017.