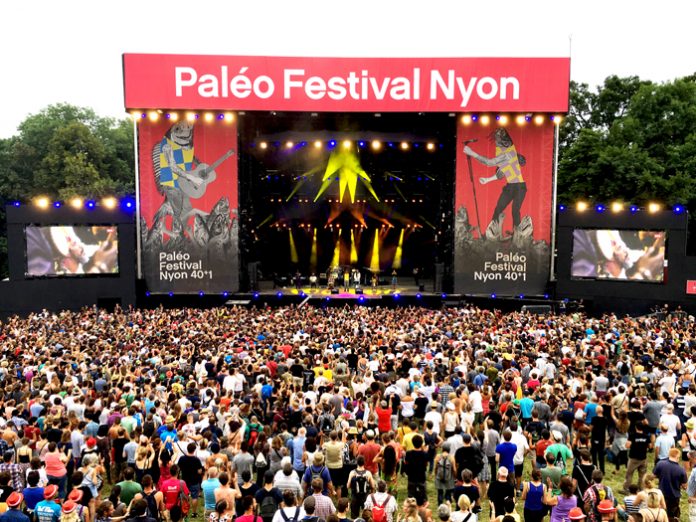 SWITZERLAND: With six days and nights of musical and artistic performances on six different stages, and 4,700 volunteers on duty to welcome 230,000 people, the Paléo Festival de Nyon is one of the most prominent and successful festivals in Europe.
For this '40th+1′ edition, the organisers offered a line-up of artists that included Iron Maiden, The Chemical Brothers, Muse, Bastille and The Lumineers. The engineers from French company Alabama Média were on hand day and night to make sure the punters experienced the best audio and visual experience possible.
Alabama has been an integral part of the success that the festival is enjoying today. The Lyon based staging company has been involved in the festival for 20 years and is not only responsible for the two main stages – les Arches and la Grande Scene – but it also deals with the content management. Specifically, the Alabama team is responsible for broadcasting all images on the giant screens, it manages video recording of Les Arches stage, and ensures that local and national TV gets all the images they need by distributing the audio and video signals from its dedicated control centre.
"We've been using video at the Paléo for 15 years now," said Alabama's technical director Joël May. "Back in the day, people were worried that video would override the music show; we were working with massive pixel pitches and the video walls required a crane to be installed."
Fast forward to 2016, and Alabama now uses state of the art X5 LED panels from Absen. "These are really amazing," said May, who has already been using the 5.2mm pitch panels at the Paléo Festival for two years. "I truly believe these LED panels are the best in the market, the brightness is excellent and the image is fantastic, even for those standing ten metres away from the stage."
Alabama deployed two screens on both sides of the main stage, each measuring 7m x 4m for a total resolution of 1344 x 756 pixels. With 98 panels (14 x 7) in total, it only took two hours to build each screen, according to May. Alabama developed bespoke ladders in house in order to make the structure easier to service and also more robust to withstand harsh winds – a system it now offers in its portfolio.
"Building the screens is the easy part," said May. The X5 is lightweight and the locking system is easy to use, so in four hours' time the main stage video is all set. The products are real workhorses; they are robust and reliable, which is a massive advantage as it gives us peace of mind. We can then worry about something else."
Another 6mm LED screen was on hand for bands requiring an extra screen, like Bastille this year. The Absen screens also took pride of place on both sides of the Arches stage, with two 11×6 screens (1056 x 648). Constantly searching for new ideas and challenges, Alabama is looking at new screen configurations for future editions of the festival.
The Paléo organisers are always keen to get interesting content on the screens, so the festival doesn't look like a big TV advert. "They've always been careful to separate the show from sponsorship," said May. Although a number of videos are screened on the Absen LED panels before the gigs, only a small amount is sponsor-related. "Most are animation movies made by HES, the local engineering school; they are both fun and offbeat. Every effort is made for punters to get the best experience; the festival is regularly praised by all for the politeness of its staff, the high quality of food and discreet security."
In order to manage the screen content on both stages, Alabama set up a technical room with a media server backstage. From there, it can manage all video feed, including artists welcoming, broadcast signals as well as security messages to keep the visitors up to date. A generator is on hand in case of power failure, so there's always at least one screen in operation to display critical messages.
Alabama became an official Absen distributor for the French market in early 2016. The decision came from the need to have an organised cross rental network in France. "A lot of service providers have ten or twenty square meters in their stock, but when a big LED screen is required for a larger event, it is really hard to find a harmonized offer. We decided to fill this strategic gap in with the help of Absen and provide a complementary range of high quality products to the market," said May.
Alabama is now acting as an Absen Gold VAP (Value Added Partner), and service and repair centre for Absen LED products. "This way when a big project lands on the table, it is ready to answer any requirements. We knew Absen would be the perfect fit for the market and ourselves, and both the A3Pro and X5 prove extremely popular in our rental fleet."
Today, there is an estimated total surface of 500 A3Pro square metres available to rent in Europe, and in France only over 400sqm of X5 panels are already available to rent. A majority of these were sold by Alabama, who also hold an impressive 200sqm of X5.
"For me the X5 is the only outdoor LED product with this level of image quality while providing high brightness in such a light package. It's almost crazy to think that we're using 5.2mm pixel pitch for outdoor events," said May. "We always wanted to be in the forefront of LED technology and having Absen by our side makes a big difference. We are lucky enough to have a great relationship with the Paléo, and this is the perfect place to try our new products and technologies.
According to May, the wide opening of the screens provides amazing image even to people who are standing on the very far end and sides of the stage. "Not just horizontally, but also vertically," he said. "The field leading to the main stage is fairly steep. And on top of the hill, there's a VIP terrace where people are watching the show maybe 50 metres above the front stage. Despite these constraints, the screens perform flawlessly, even when the setting sun is directly hitting the screens."
Making sure that the screens are always operating during the six days of the festival is critical for Alabama, "and these are really withstanding the most challenging weather conditions," said May. "It's not rare to get temperatures over 35 degrees, and the next minute you can get torrential rain. We decided to feed the screens with two redundant signals in case of failure. This way we are immune to a cable cut, a bad connection, rain, wind, anything. The dual power redundancy in the Absen LED screens also gives us extra peace of mind."
For Alabama, which is behind some of the biggest music festivals in France, including Download in Paris, Mainsquare in Arras, the Francofolies in La Rochelle, Musilac and Guitare en Scène to name a few, the Paléo continues to hold a special place in their summer calendar.