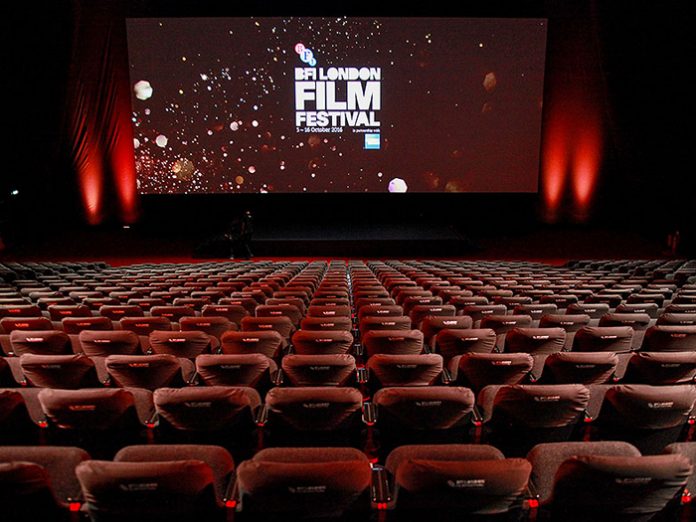 UK: Blackout was entrusted by live experience agency People to install a cinema screen support within the temporary pop-up Embankment Gardens Cinema, constructed in celebration of the 60th anniversary of BFI's London Film Festival from October 5 – 16.
Blackout project manager Alex Duke and his four-strong rigging crew constructed a 7m x 7m ground support structure over a six-hour install from Thomas Super Truss 52cm, onto the front of which the cinema screen was attached.
Duke said: "The BFI screen support installation presented a challenge as to where 3.2-tonne of ballast should be placed. The cinema screen was right up against the temporary structure wall so the ballast had to be hidden underneath a stage below the screen. The stage itself could only sit 600mm above the ground so we had to work out a way of hiding the weight in between the stage and the floor, resulting in running two pieces of truss in and placing the weight between them.
"People did a fantastic job at sorting out the transport logistics for the project, on a small site with a number of suppliers trying to complete complex elements of the job, it is imperative that the load-in schedule runs like clockwork. On an event site like a Royal Park, suppliers have to be mindful of their environments, so we quickly ruled out a water ballast due to the lack of suitable places we could drain the water safety and with respect to our surroundings. It was testament to the skill and flexibility of the crew to quickly adapt to tight site restrictions, helping to create London's largest temporary cinema."
People Creative's Claudia Connelly commented: "Although not a particularly large job, the complexity of the design and its importance to the cinema experience was enormous. Often a smaller project results in less attention, as expected with Blackout, Alex and the team spent considerable time finessing the approach to ensure it worked within the challenging restrictions given and, the result was excellent. It was great to have the Blackout team partner with us at what they do best."
Throughout the 11 day Film Festival, a total of 144 short films, 193 fiction and 52 documentary features were screened, including 18 world premieres, 8 international premieres and 39 European premieres.