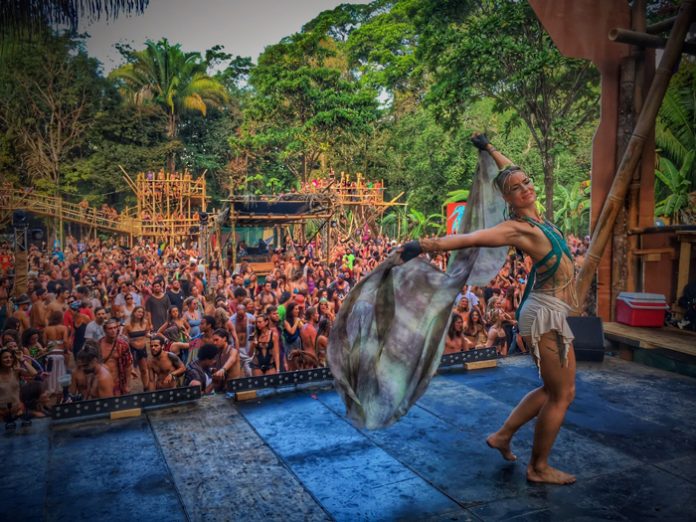 COSTA RICA: Envision Festival has revealed the music, yoga, and speaker line-up for its seventh edition, set to take place in Uvita, Costa Rica from February 23 – 26.
Blossoming to life in 2011, Envision is an experiential arts, music and wellness festival dedicated to 'awakening human potential'. Each year thousands of festival participants experience days bursting with art, spirituality, yoga, education and sustainability, and nights committed to celebrating humanity through music, dance and performance, all in the name of connecting with our planet and its inhabitants.
With the goal of creating a festival that represents a harmonious blend of many different cultures, the musical acts hail from around the world, representing a diverse assortment of musical genres. From ethereal house beats and sultry grooves to global bass, reggae, glitch hop and live performances, Envision unites musicians from across the world to come together.
Headlining acts include a rare Central American performance from Opiuo, and Chicago live dance music trio Autograf. The soulful sisters of Rising Appalachia are confirmed to serenade the Sol Stage with their unique voices and justice seeking lyrics. Canadian duo Blond:ish, known for their deep house and techno tracks, and Berlin underground legend Acid Pauli, renowned for his ultra-eclectic marathon sets also join the bill, along with Georgia-born Zach Deputy, who will be performing his beloved reggae / funk / soul fusion jams.\
Colombia's Systema Solar promise to shake the trees with their Colombian Elegancia Tropical vibes and Envision promises additional Latin American bands to come. Random Rab is set to deliver another crowd-pleasing sunrise set in the jungle, making him the only musical artist other than Costa Rica's live electronic world beat trio Santos & Zurdo to have performed at every Envision Festival since 2011. The inside tip from the events producers is to look out for some of their personal favourite 'up and coming producers', CharlestheFirst, Clozee, Goopsteppa & Tryptich and unforgettable sunrise sets from Of Porcelain & Frameworks. Musical acts are accompanied on stage by awe-inspiring performers, fire dancers, and aerialists – adding to the ambiance that envelops the tropical jungle landscape.
Envision's emphasis on creating a platform for various cultures to coexist in a sustainable community resonates throughout the entire event as is evident in the yoga and movement village, which features a line-up of top yoga instructors, speakers, and educators. This includes revered instructor and founder of the Goddess Yoga Project Sianna Sherman, The Bridge Practice founder Kevin Courtney and music and dance-inspired Amber Ryan, founder of Kids in Motion Nosara and The Sacred Arts Space. Practice elevating instruction from Envision Yoga Program Director and co-founder of The Avahana School of Yoga Ashleigh Sergeant and Christopher 'Hareesh' Wallis, tantric and yogic studies scholar are also on the programme for 2017, along with the incredible Hoopalicious hosting a Hoop Dance workshop.
To accompany the music and yoga line-up is a group of individuals set to inspire Envision attendees with an array of talks and workshops. These include John Perkins, the author of Confessions of an Economic Hitman; Burning Man Founders Crimson Rose and Will Roger Peterson; environmental superstar Summer Rayne Oakes; and Erin Schrode, the youngest woman to ever run for US Congress.
Other creative speakers hosting talks and workshops include Leah Song & Chloe Smith of Rising Appalachia, who will be leading a 'Global Song' workshop and Kip Andersen, the writer of the environmental documentary Cowspiracy: The Sustainability Secret. New to Envision this year, Thursday night in the village will feature a series of 20 minute TEDTM inspired talks to give participants a taste of the wealth of knowledge to be offered in the weekend to come. The Village Witches workshop space will bring medicinal plant herbalists on an incredible journey with education from accomplished herbalist 7Song, and Sarah Wu, along with Envision festival co-founder and resident permaculture expert Stephen Brooks. Additional classes range from bilingual language classes and African dance to Tai Chi and biomechanical alignment.
"I believe that by gathering in community out in nature, we create a rare opportunity for individuals to observe their value systems and inherent human motivations from a new or alternative perspective that is free of social conditioning," said Matt Siegel, co-founder of Envision. "At a successful event, participants capture this moment and create from it a forever lasting positive impression."
Envision