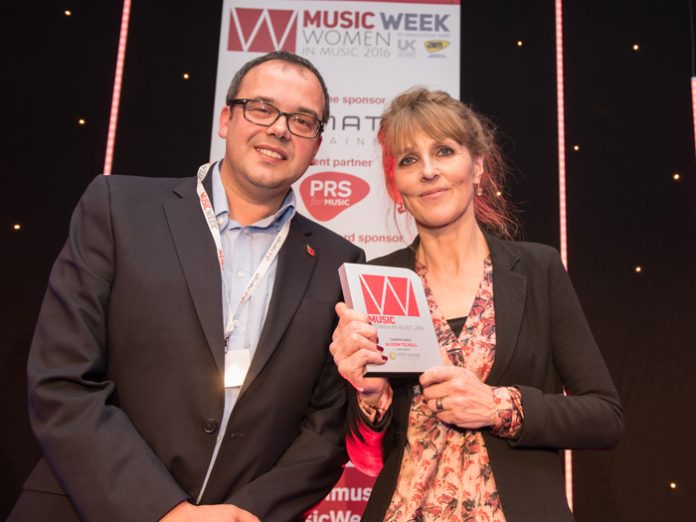 UK: Alison Tickell, founder and CEO of Julie's Bicycle, has been honoured as Campaigner of the Year at the Music Week Women in Music Awards 2016. The Campaigner award was presented to Tickell at the star-studded third annual Women in Music event for her longstanding commitment to addressing climate change and environmental sustainability in the music and creative industries.
Convened by UK Music, the Association of Independent Music (AIM) and Music Week, the Music Week Women in Music Awards celebrate and recognise the most important and influential women from all sectors of the music industry.
Kickstarted by the UK music industry in 2007, Julie's Bicycle works across the creative industries worldwide helping them to tackle climate change. Celebrating its 10th anniversary next year, it has grown from the seed of an idea into a globally respected expert and advocate bringing together the worlds of the creative industries and climate change. Julie's Bicycle believes that the creative community is uniquely placed to play a crucial role in this context, combining practical action with inspirational momentum.
Since its inception, Julie's Bicycle has worked with thousands of creative businesses, organisations, and professionals to embed environmental sustainability into their business and creative practice. Under the dedicated leadership of Alison Tickell, Julie's Bicycle has advocated tirelessly within the industry and at local, national, and international policy level for the sector's capacity to create meaningful change, making the business, ethical, and creative case for action. It has worked with pioneering organisations to scale up their efforts and ambition, helping to spark a transformation of how the creative industries see themselves in relation to one of our most pressing challenges.
"This award is important because it recognises that climate change matters. When we began almost a decade ago the challenge was to make the case. Now the challenges are responding to the huge demand for change, celebrating the good things that are happening, and taking those stories out into the world," said Tickell.
"Climate change is one of the most pressing issues facing us today, and also one of the most difficult issues to do something about," said Tony Wadsworth, Chair of Julie's Bicycle. "Thanks to Alison's vision for Julie's Bicycle, the creative industries know what meaningful environmental action looks like. Having this kind of focal point has stimulated a growing movement of companies, labels, venues, and artists that have integrated sustainability into their daily business, and are inspiring others to do the same at a time when what we do on the environment really counts.
Previous winners of the Music Week Women in Music Campaigner award are Angie Jenkinson, Teenage Cancer Trust (2014) and Pauline Tambling, CEO, Creative & Cultural Skills (2015).