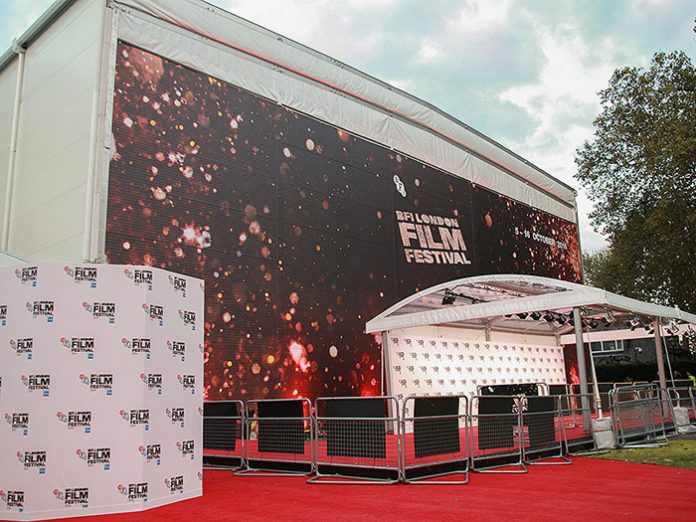 UK: Arena Group designed and installed London's largest temporary cinema venue in Victoria Embankment Gardens last month, forming part of the 60th anniversary celebrations of BFI's London Film Festival from October 5 – 16.
People Creative's Tim Elliott was the project director on behalf of the BFI, with Arena Group's expertise called upon to support the design process, then complete the logistically challenging installation, particularly mindful of its duty of care working in the busy, environmentally sensitive Embankment Gardens.
Arena Structure's project manager, Phil Bish, lead his first solo project by delivering Arena's temporary I-Novation structure spanning 25m x 35m. Built on 10m legs, with 40mm solid walls and externally wrapped with BFI branding, the structure was internally fitted out to the highest of standards with fully carpeted surfaces, acoustic linings, black wool serge drapes for venue sound proofing, steps and ramps for accessibility and connecting doors between the auditorium and the adjoining box office and VIP hospitality area.
In addition to the main cinema, a 5m x 25m red carpeted press walkway ran along the front of the venue, with a 5m x 10m covered VIP media reception structure leading to the box office and hospitality area, which was built using a 15m x 20m Arcus structure.
Arena Seating also supplied 789 cinema-style upholstered Diplomat seats, complete with cupholders. Dave Withey project managed the installation of the tiered configuration, which included front and rear stairs for easy audience access. Separate, vibration-free towers were built to the rear for projection and control rooms. To create a luxury visitor experience a reinforced sub structure gave a feeling of permanence, while the seats featured special additions, such as cinema style drinks holders and shared padded arm rests to offer guests the epitome of upholstered seating comfort.
Claudia Connelly, People Creative's project director, said: "We were delighted to win the competitive pitch and with just a nine-week lead time, it was imperative we chose the right suppliers to help deliver our vision of a cinema that wouldn't feel temporary. From luxury seating to Dolby 7.1 surround sound, 4k digital projection onto a 16 metre wide screen were all elements that helped to surpass the viewing experience even from the UK's permanent cinemas.
"Having a longstanding relationship with Arena Group built up over many complex projects resulted in the BFI being impressed with our collaborative design approach maximising the space available and enhancing the audience experience.
"All of our industry partners, including Phil Bish and his team, worked tirelessly to deliver the project in a very tight timeframe, remaining incredibly good-humoured even when working against the clock."
Phil Bish, Arena Group project director, said: "The temporary cinema installation was a unique project for Arena Group, and it was a pleasure to deliver such a unique structure. From using our new I-Novation system to our high-end Diplomat seats, every measure was taken to ensure that the Embankment Garden Cinema provided guests with the surroundings synonymous with a permanent structure."
Throughout the 11 day Film Festival, a total of 144 short films, 193 fiction and 52 documentary features were screened, including 18 world premieres, 8 international premieres and 39 European premieres.