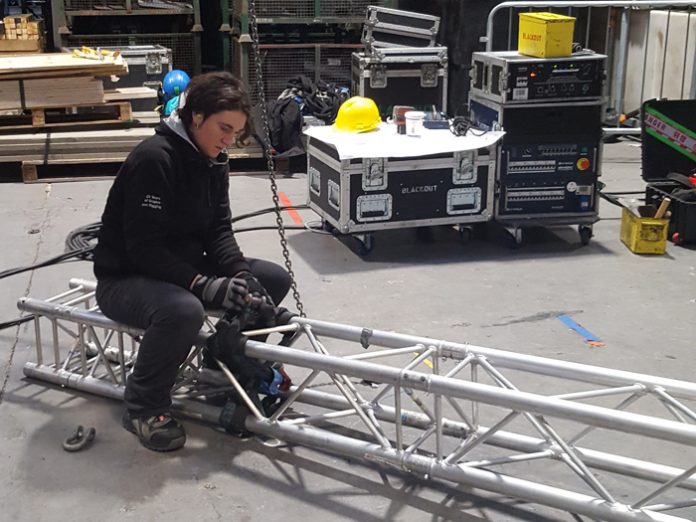 UK: Blackout has appointed the event industry's first Trailblazer Live Event Rigging apprentices, with a double appointment.
The drapes and rigging specialist has welcomed Roisin McClearn and Bridie Lane to its team. The Trailblazer Live Event Rigging Apprenticeship, part of the governments' Trailblazer scheme encouraging three million new apprentices by 2020, was launched by the National Rigging Advisory Group (NRAG) in September to provide formal training to new recruits, supporting them beyond the National Rigging Certificate Level 2, and to plug the gap in trainee numbers to fill increasing demand throughout the rigging industry.
Blackout selected McClearn and Lane from over 70 eager applicants, to become the first individuals in the UK to embark on this groundbreaking events industry training. Following an online application process, the pair proceeded to a final shortlist interviewed by Blackout's managing director Martin Wood and project manager Alex Duke. Impressed with McClearn's previous staging and ground rigging experience alongside Lane's completion of a two–year technical theatre course, the two ambitious applicants were welcomed on board as the newest members of the London based rigging team. The two apprentices have been involved in every aspect of day-to-day life in the warehouse, working with drapes, seams, rigging, truck loading and unloading, stock taking, prepping for jobs and ongoing equipment maintenance.
Blackout's Alex Duke said: "Now three month into the new industry training scheme, both of our new apprentices have very quickly rolled up their sleeves and displayed an eagerness to immerse themselves into all elements of the business and the experiences the events industry offers. They have quickly picked up navigating around our extensive warehouse, picking jobs, learning the processes of simple truss installations and hanging of drapes. It has been a pleasure to welcome Rosin and Bridie to the team and I look forward to see them develop skills and industry knowledge with us over the next three years."
Roisin McClearn, 21, commented: "The whole Blackout team have been ever so welcoming and generous with their time to help us take on board as much as possible, easing us comfortably into our new roles with a member of the team always at hand for guidance."
Bridie Lane, 23, added: "Having already had a taster of what the events industry has to offer as a casual scenic constructor at the Royal Opera House for five years, I have always wanted to try my hand at rigging so was delighted to get the chance to join the Trailblazer scheme. I hope to be with Blackout for a long time to come and develop a reputation as an expert rigger."