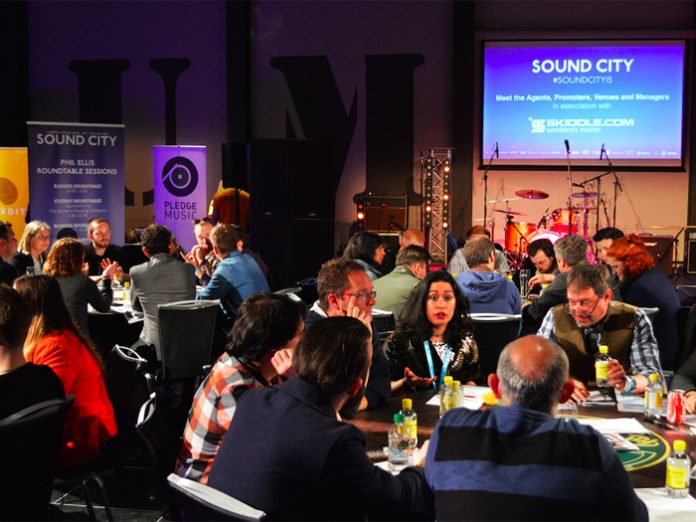 UK: Internationally renowned music industry conference Sound City+ is celebrating its 10th anniversary on May 26 with a host of high profile speakers from across the industry, and as ever promises an intensive packed programme of speakers, debate panels, workshops and the acclaimed Sound City+ 1-2-1 meetings.
This year's 'Revolutions' theme will enable speakers to explore the wider context of British rock and roll revolutions and take a look at some of the largest cultural explosions from the past 50 years, including The 60's British Invasion, punk rock, Brit pop and acid house.
One such speaker is Jah Wobble, founding member of Public Image Limited alongside former Sex Pistol John Lydon, who will discuss his career – from his close friendship with Lydon and Sid Vicious, being a 'boots on the ground' eyewitness to punk, how PIL helped define the revolutionary sonics of the post-punk era, to his current work with a host of collaborators.
Others include veteran DJ, filmmaker and founding member of Big Audio Dynamite, Don Letts; acclaimed DJ Andrew Weatherall; and electro punk musician and performance artist Peaches.
Dudley.Jeczalik.Langan – three of the founding members of Art of Noise – will also be in conversation. Formed at a time when the reverberations of punk, post-punk and new wave could still be keenly felt, Art of Noise were determined to set themselves outside the then currents of fashion and style – the missing link between The Monkees and Talking Heads, Abba and Kraftwerk, Frank Zappa and The Archies.
Leading figures in their field, iconic rock photographers and image makers Kevin Cummins and Tom Oxley will be talking about the enduring power of the photograph and how just one image can change scenes, regimes and societies overnight.
Cummins said: "I'm really looking forward to coming back to Liverpool Sound City+. Having worked in the industry for many years as a professional photographer during many eras of political upheavals I do feel that today is a transitional time in the world and this will be reflected on culture this year."
Finally, celebrated journalist and author Hattie Collins will deliver a talk on underground grime culture.
The day will be hosted by author & DJ Dave Haslam and rock 'n' roll historian Jennifer Otter Bickerdike.
Sound City+ has also revealed a move to The Baltic triangle, the rapidly evolving hub for creative enterprises and a jewel in the crown for the music and digital industries in the North West.
The Baltic Triangle is also home to arguably Liverpool's finest bar and event space, former warehouse Camp and Furnace, where this year's edition of Sound City+ will take place.
Dave Pichilingi, CEO of Sound City and Modern Sky UK, said: "It is a huge year for us and for our 10th Anniversary we wanted to do something very special. We are bringing Sound City+ to the very heart of the creative quarter of Liverpool. The Baltic Triangle is synonymous with everything that is innovative and cutting edge that is coming out of Liverpool right now; it is part of the fabric of the city. The zeitgeist is here! We want to show the thousands who come to the conference what the fuss is all about and send them home with an amazing impression of Liverpool.
"As part of Sound City+ this year we are celebrating those mavericks who have played a pivotal part in some of the milestones in the development of the rock n roll business. These will include key players from the both the punk movement and acid house".
As part of the highly anticipated birthday celebrations for Sound City, Sound City+ will be taking a selection of the In Conversations to the live festival site, giving Sound Citizens the opportunity to see avant-garde titan John Cale as special guest speaker. With a wealth of stories accrued over a career of more than 50 years his talk with explore his early years, this move to the US and foundation of the Velvet Underground, its legacy and beyond. For aficionados of the birth of psyche and anyone with an interest in the history of rock this will be a once in a lifetime opportunity to hear it from the great man himself.