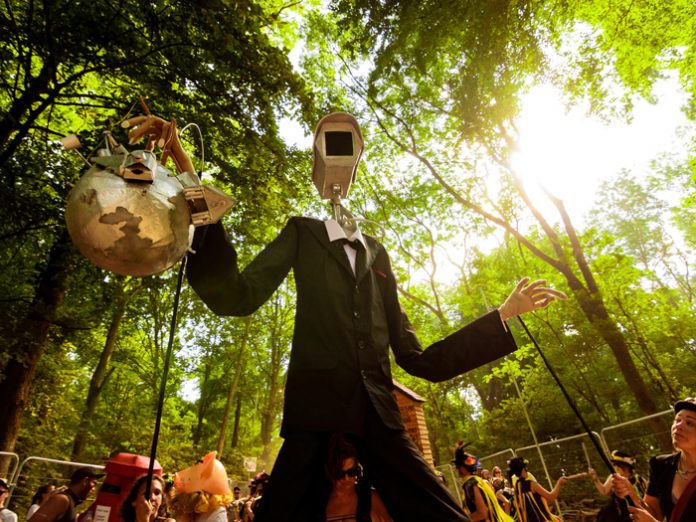 UK: Boomtown has announced the full music and activities line-up for the Whistlers Green area of the festival, with over 100 different workshops, skills and crafts on offer.
The area will also house the new Windmill stage, hosting jazz, world fusion and roots reggae acts, including Gilles Peterson, Benjamin Zephainia, Portico Quartet and GoGo Penguin. Kidztown will be showcasing acts from across the festival with its own main stage, the Sandcastle Stage, with the likes of Mr B the Gentleman Rhymer, Beans on Toast, and Sam & the Womp performing tailor-made family friendly sets.
Whistlers Green, perched atop Matterley Estate on the very westerly tip of the South Downs National Park, requires very little adjustment to create a tranquil space. Immersed in the surroundings' natural beauty, it is the ideal space to learn about nature and traditional skills. The workshops and activities on offer range from master classes in blacksmithing and jewellery making to rocket stove building, chainsaw carving, willow weaving, geodomes, glass blowing, pottery, upcycling, and chocolate making. The area also comprises a vast array of circus, music, play and dance workshops, plus a healing area for recuperation.
The Kidztown area hosts an array of spaces to learn, play and relax. Main activities include the Forest School with Art Play Environment Project, Horwood Coombe Forest School and some additional sessions provided by experts from South Downs National Park.
The Kidztown Street will be hosting a plethora of immersive role playing adventures at the Post Office, Rat-a-tat-tat Tattoo & Facepainting Parlour, The Piggy Bank and Pet Shop with a brand new immersive venue for Chapter 9, The Rusty Workshop, teaching mechanical skills, woodwork, and metalwork in a fully interactive workshop set. Another new addition to Kidztown – the Science Tent hosted by the SAW Trust – will be bringing science-focused art and creative writing, Marvellous Medicine Potion Making and a Photobooth designed by a competition winner (which will be launched at the end of March).
Upgrades have also been made to the family camping area, which now encompasses spacious meadows and a free family shuttle running between family camping and the closest car park, as well as a dedicated shuttle throughout the duration of the festival from Kidztown to the Town Centre stage. Usual family facilities are available in Kidztown in the Baby Yurt & Lazy Lounge, providing baby play, milk warming and changing facilities, and under 5s soft-play.
Lak Mitchell, co-founder of Boomtown, said: "We're so proud of this area of the festival, so many put such love and dedication into creating this incredible space every year and it's amazing to see what it's now become: a beautiful festival within a festival, filled with family and fun whilst retaining all the core festival traditions many of us have grown up with. We're excited to see where it will go next!"