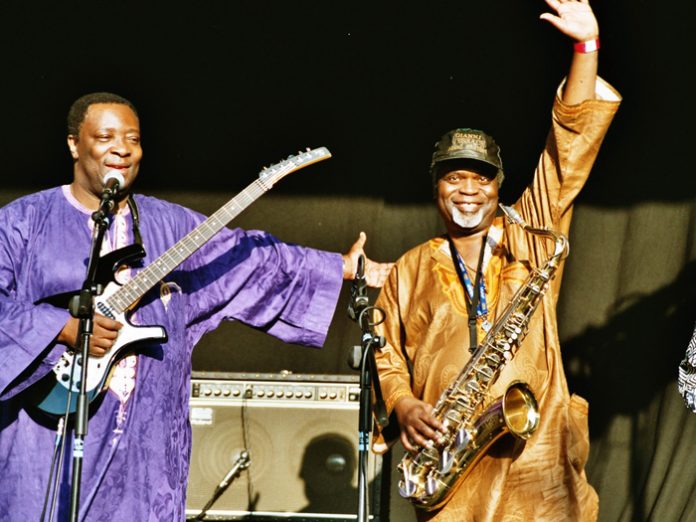 UK: Africa Oyé will return to Sefton Park this summer for an extra special occasion, celebrating 25 years of bringing the best talent Africa and the Diaspora have to offer to the UK. To mark the occasion, Oyé has invited an eclectic mix of top artists from over the years to return to Liverpool for a weekend of music and culture.
Leading the anniversary celebrations in June will be festival alumni Dizzy Mandjeku & Odemba OK Jazz All-Stars, Jupiter & Okwess International, and Mokoomba.
Led and conducted by guitarist Dizzy Mandjeku (former member of Franco's OK Jazz), the 12-piece Odemba OK Jazz All-Stars are the original exponents of smooth big band 'Franco style' Congolese Rumba. Other greats in the All-Star line-up include Malage De Lugendo, Nana and Baniel, Dele Pedro, and veteran Seigneur Lokombe. Gaining huge popularity during the 60s and 70s, Odemba first graced the Oyé stage back in 2007.
Dubbed by the Guardian as 'one of the finest young bands in Africa' following the release of their debut album five years ago, Mokoomba will return to Oyé after an acclaimed headline set in 2013. With a unique blend of afro-fusion, the Zimbabwean group masterfully combines local tradition with world music, stretching from Latin American rhythms to New Orleans funk.
A melting pot of influence, Mokoomba are led by the charasmatic Mathias Muzaza; his raps sewn through distinctive Tongan vocals.
Kinshasa pioneers Jupiter & Okwess International will also return to Liverpool following their performance at Oyé '14. Spending his formative years in Berlin, Jupiter Bokondji incorporates western rock into Congolese tradition. The band strive to reactivate the forgotten rhythms and melodies of the nation, a country comprised of around 450 ethnicities.
After 10 years touring all over Africa, the band took part in Kinshasa One Two, an Oxfam project driven by Damon Albarn participating in the album DRC Music. This opportunity lead onto a performance at the 2012 Africa Express tour.
Alongside the main stage, the Oyé Village will be providing the public with a variety of world foods, workshops, dance classes, traders and DJs and more. Lots of child-friendly entertainment will once again be onsite so festivalgoers can bring the whole family along.
Artistic Director, Paul Duhaney is excited about what's in store for Oyé's milestone year: "It's amazing to be able to look back at the last 25 years and pick some of our favourites to return for this celebration. The festival this year will be the centrepiece of a whole year of gigs and events and I couldn't be happier with the first acts that we've announced."
Africa Oyé will take place from June 17 – 18 in Sefton Park, from 12:30pm till 9:30pm on both days and entry is free.